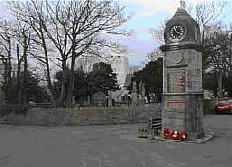 with thanks to Mrs Maureen Jones, Mrs Marian Davies and Ms Gaynor Jones
I had actually never heard of Robert Williams until 2009 when Mrs Betty Edwards came to the school where I worked to deliver the Chronicle. She mentioned that she had had an interesting morning with an American couple looking for their Welsh ancestors. They didn't know much except that he was involved with the chapel and was buried in the churchyard. They had failed to find his gravestone. They also said that he was born at Edern House, Llanfechell. Mrs Edwards had asked around the village about Edern House but no-one could help but as soon as she mentioned Edern House I got very excited as I knew it very well – it was the house that Gaynor, my daughter lives in now and my grandparents lived in when I was a child. In fact it was my grandfather who changed the name to Min Meddanen. On the original deeds the house is called Bodedern House.
*****
It was now that the work and searching began – many hours spent in the archives and emailing back and forth to New Mexico where Sharron and her husband live. She told us that Robert Williams was her great, great, great grandfather and according to old family history he was born and raised his family of 6 children in Edern House Llanfechell, and all but 1 had emigrated to America and in an old letter sent to his son Robert E. he talked of his work with the Chapel, indicating that maybe he was a minister and Sharon wondered if there was any family still around here.
As with most old family history, the facts are slightly different.
*****
Robert Williams was born in 1803 in the parish of Llanfflewin, he married Winifred – the daughter of Edmund and Grace Hughes, Llanrhyddlad, at Llantrisant on 15th May 1827. Grace their daughter was born 4 months later and baptised at Llanrhyddlad. Winifred was obviously pregnant when they married which would explain why they married at Llantrisant. Different rectors had different views.
They lived at Cerrigman, Llanfechell where most of their 9 children were born before moving to 4 Tyn Pwll or 18 Mountain Road.
William 1831
John 1833
Edmund 1836
Robert E 1837
Margaret 1840
Hugh 1841 died aged 6 1847
Mary 1845
Hugh E 1848
It was not unusual at that time to name a child after a deceased sibling.
Census records show their address as 4 Tyn Pwll or 18 Mountain Road, the numbering of the street varied sometimes with different censuses but they remained in the same house – Bodedern House.
Robert Williams was a keen Methodist, having worked with the well known John Elias for 20 years, who had a great influence on him
Grace their eldest daughter married a watchmaker and lived in Caernarvon.
Four of his other children emigrated to America – John, Robert E, Margaret and Hugh.
This is a copy of a letter sent from Robert Williams, shortly after his wife Winifred died, to his son Robert E. in America. This letter was obviously translated from Welsh to English by somebody in America, as some things doesn't sound right to us.
My dear son Robert, daughter and family,
I am taking this opportunity to write to you in the hope you are all in good health as I am at present through the goodness of the Almighty, I have long been expecting a letter from you. I received a letter from your brother John recently in which he says that he and his family are well at that time, perhaps he has been there after that.
I do not have much news to send you, as I have been like the lonely traveller, by myself, without anyone with me. A man and wife with two children with them wanted to come and live with me but Mary and her husband are unwilling, on account of the children for one thing, although the parents and children were of good disposition and character. I could be satisfied that I would not suffer from any offence on their part. They offered some support and your brother John offered them some payment, but I have some hold on the old place and again my standing in the old chapel and I would miss the services rendered to the cause of Jesus Christ in Llanfechell, as I have a high standing in the cause which is a great blessing to a poor creature such as I am. Therefore I shall stay here while I can support myself with the assistance of John who has been a good friend to his parent to this time. The world has come upon a bad time, people out of work and thousands unable to get work and our chances are rapidly diminishing and it behooves me to prepare to commune and that father and mother should receive a letter when later we will not be here to receive any more letters.
Therefore be diligent in the service of the Redeemer and do your best to find safety and be faithful in His cause. It would be good indeed to see you again although has been received about your coming here for a trip, except John. He has promised but he is probably too busy accumulating wealth.
Perhaps some of you may come to the old country as it is not unusual as many have been to America and two ministers from America have been here ,one of them will return to America at the end of the month.
They are William Charles of Gwalchmai and William Robert who returned here to bury his father and help to repair their home here before returning to Kansas. He related some of his experiences with some of your old friend. He knows William Rowland (Tarn) and Robin Carrog. Robin asked him to get the money in the bank at Amlwch which was left to him by his brother Hugh, which has been there a long time, but Margaret objected to relinquishing the papers.
Send this letter to John your brother the first chance and when you write to me again give me a description of his house, garden and farm and remember to give Mrs. Williams and children my sincere remembrances. I would love to see them all once more. Your sister Mary sends greetings to you and family and asks that you send a small token of either gold or silver ornament to their little girl. Anything from America would be appreciated.
This from your father.
Robert Williams. Write soon.
*****
We wonder at this time what image Robert Williams had of America. All he had was hearsay of a wonderful country, abundant wealth with land for the taking, something that was impossible to achieve here at that time for ordinary working class people. Most emigrants found employment on arriving in New York before moving on to somewhere else. Some went west across the country to California, in search of gold and where the land was reputed to be the best because of the climate. However the trek across the country could take up to 6 months, by wagon train across difficult terrain.
Sabetha, Nemaha County, Kansas 1870
Sabetha, Nemaha County, Kansas was halfway on this route and it was here that Robert Williams' son Robert E settled with his wife and young family and acquired 160 acres of raw land.
Sabetha's settlement had only begun in 1854, the name deriving from the day the first settler arrived there.
In 1862 congress passed the Homesteads Act where the head of the family could acquire 160 acres of land, settle it and cultivate it for 5 years. At the end of the 5 year period the head of the family was granted the land. By 1890 all available federal land had been settled by these pioneers.
By the 1900's Sabetha had developed into a busy town.
Margaret his sister settled in Kansas too, married, had a family. Census records shows that she could not write until 1890. Hugh went on to California.
*****
Back home.............
The best way to describe Robert Williams is by a tribute by Mr. Robert Edwards, Llanfechell. found in his book Atgofion Llanfechell a'r Cylch.'
Robert Williams lived to 84 and all his life he served his Lord with dignity.
On my way to the "Society" in Libanus this last night for my friend to be alive, I called in to see him. I told him that I was going to the "Society". His words were "On the surface it is pretty rough, but O!, deep within I am enjoying perfect peace."
There he quoted a verse "Those doest keep, He who has his thoughts on Thee, in perfect peace". Remember me to them all in the "Society" tonight. Those were almost his last words.
He was a child of the great Revivals and he was always referring back to those days. Robert Williams was an outstanding character in his day and generation. He was a great reader, and he had a very good memory. He travelled all over Anglesesy to hear sermons in the "Sasiwn" and the preaching festivals, and he could recite the sermons almost word for word afterwards. He remembered those outstanding sermons of the "Sasiwn" at Llanerchymedd, Holyhead, Beaumaris and Amlwch.
For over 20 years, Robert Williams worked for the well known minister, John Elias. He would not allow anyone to say anything against John Elias. A preacher once asked him "Mr. Williams you remember John Elias well, tell me then, do you think he would be an outstanding preacher today? "Goodness me, what do you mean?" said Robert Williams, "have you heard such a question from anyone that had heard John Elias?"
He was very much influenced by the 1850 revival.
Robert Williams was also a keen theologian, he studied theology in the light of the Hyfforddwr, the Confession of Faith and the Biblical Dictionary. His favourite theological topics were – The Covenant of Grace, Election, and especially the Work of Christ.
Another feature in his character was the fact he was always the same, the same with everybody. He had a saying "Do not offend, it is so difficult to reconcile".
*****
In the death of Robert Williams, the church lost one of its strong pillars, a man that was honoured by everybody.
A death notice in the newspaper stated that Robert Williams was the first to be buried under the new law, we do not know what that law was, we do know that from around that time ministers could take part in the burial service at church.
*****
The 1911 census shows Mary and her husband William residing at Dingle, Llanfechell.
It was in 1916 at the age of 71 that Mary jointly with her brother Hugh who lived in California bought the old family home of Edern House. A week later she took out a mortgage of £30 from William Jones Plas Hen, Llanddanial Fab. Was this in order to buy her brother's share or perhaps pay her debt to him?
Mary and William had a daughter Matilda who married Richard Thomas – a cattle dealer from Bodedern. She died at Derwyddfa, Cemaes aged 89 in 1963.
They had no children but looked upon Nell Jones – the housekeeper as a daughter. She had been with them for years and was present at her death. Locals remember her as the lady with the three corgi dogs.
It's ironic that the same year that Matilda died that the local minister Robert Evans of Annedd Wen was in touch with another of Robert Williams' descendants, a great grandson also named Robert Williams. He was anxious to know if there were any family still living locally. A friend of his family, a Mr. Lord had been to Llanfechell and taken photos of the chapel etc on his behalf and had met the minister. This is a copy of the letter sent by Robert Evans.
Dear Mr. Williams
Please excuse my long delay in answering your letter of the 30th October which I received on Monday 4th.
I wish to thank you most gratefully on behalf of Libanus, Welsh Presbytarian Church, Llanfechell for your kind gift of 5 dollars.
Again thanking you for your kind consideration and wishing you all the best during the festive season and may yours be a bright and prosperous new year.
Yours truly,
Robert Evans.
*****
This is a photo of Robert Williams' great grandson Owen Clement Williams (U.S. Navy World War 1) which is Sharon's grandfather and his son Edmund Williams ( Sharon's father ).
Click on above photographs to see larger versions

Mary, his youngest daughter, had stayed on Anglesey and married William Williams at Bethlehem Chapel, Carreglefn. She donated a chair in memory of her father to Libanus Chapel.
The inscription on the plaque reads –
Donated by Mrs Mary Williams in memory of her father Robert Williams Deacon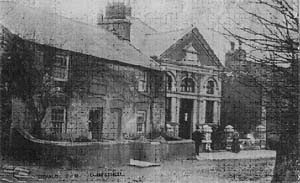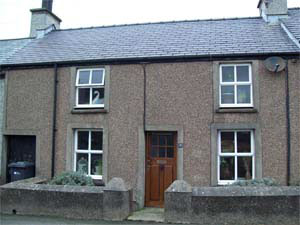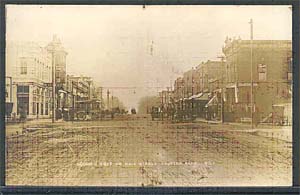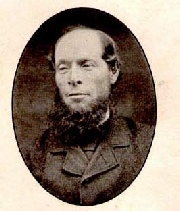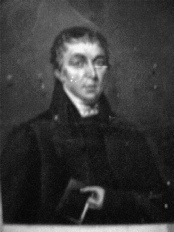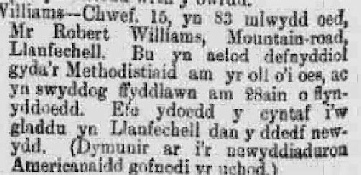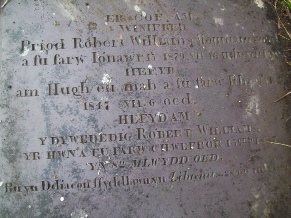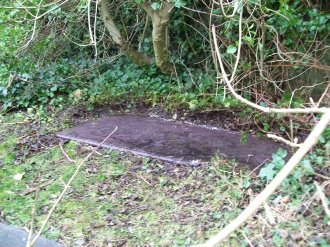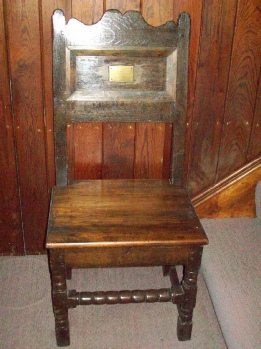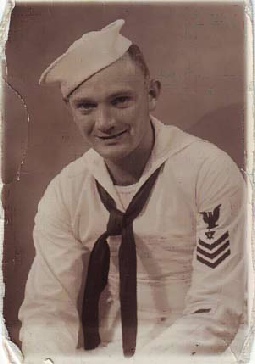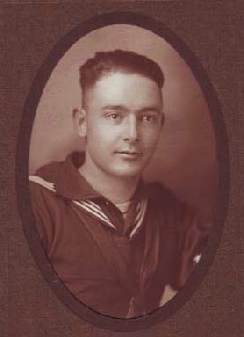 Mrs Edwards said that the Americans had left their contact details at the Post Office, so on my way home from work I called in for them. Unfortunately there was only an email address, so I phoned Gaynor at work and she emailed them. It turned out they had just left Holyhead that afternoon and were on their way to London, they were very disappointed that we had just missed each other by a matter of hours but excited to have made contact and would be in touch once they got back home to America.
Gaynor and I decided to take it on as a project for the Americans and she was also interested in the history of her house.