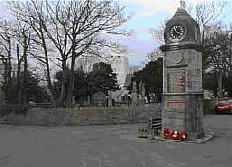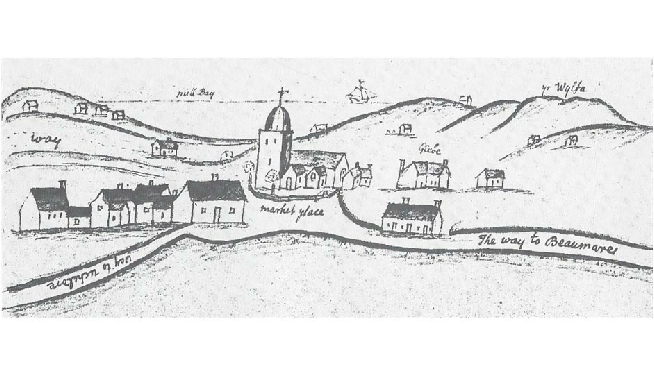 Lewis Morris' sketch of Llanfechell c.1738
Llanfechell in flux – 1800-1875
How did Llanfechell develop in the nineteenth century? And what were some of the key drivers?

Grwp Hanes Mechell members have developed a number of studies of specific aspects of the village during this period – the Chapels, Post Office, the Crown, individual farms, houses & families, Census details, the river, the Church, newspaper reports, and of course John Elias & family. Many individual contributions – most now on the web-site.

An attempt will be made to join a few dots, in relation to Llanfechell's development in the first half of the nineteenth century.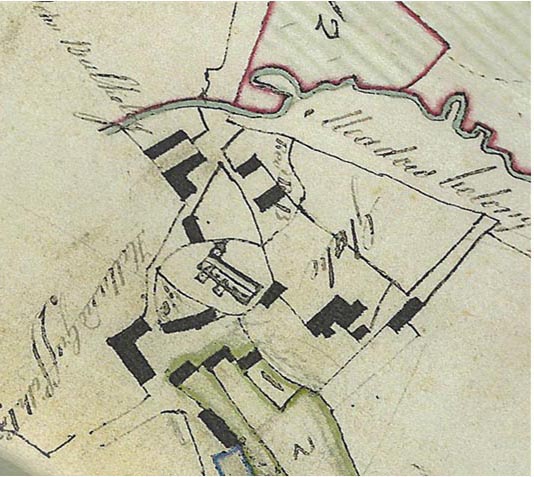 Core of Llanfechell in 1805 (from Brynddu Estate Map 1805)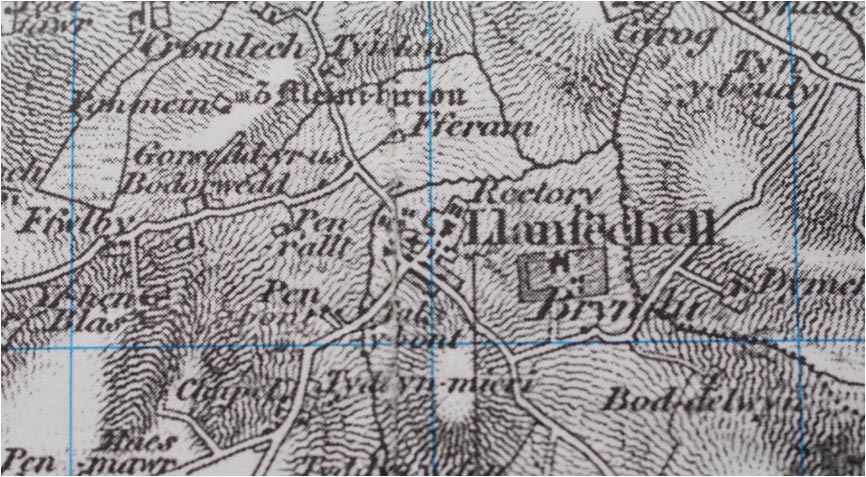 Core of Llanfechell in 1839 (from the first Ordnance Survey Map, 'Old Series' 1839-41)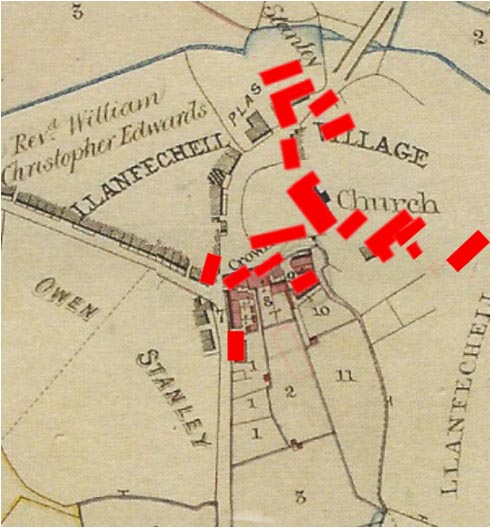 1805 Llanfechell superimposed on 1875 Llanfechell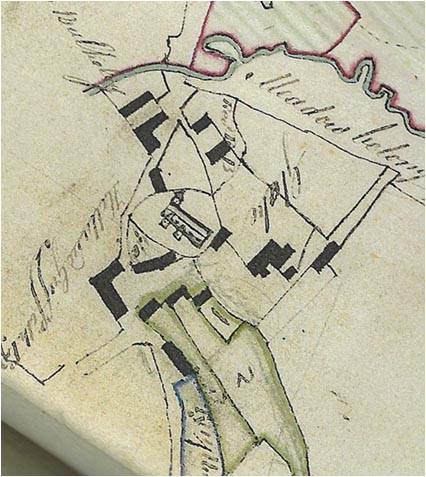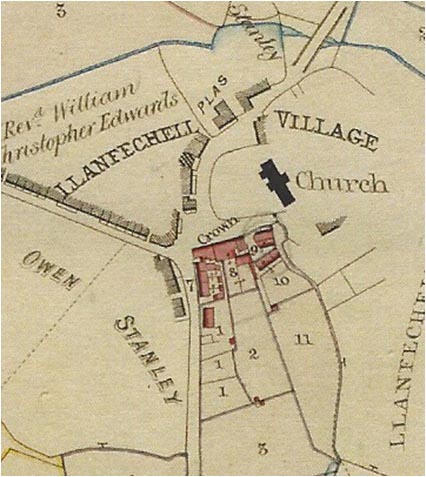 Llanfechell 1805 (l) & 1875 (r)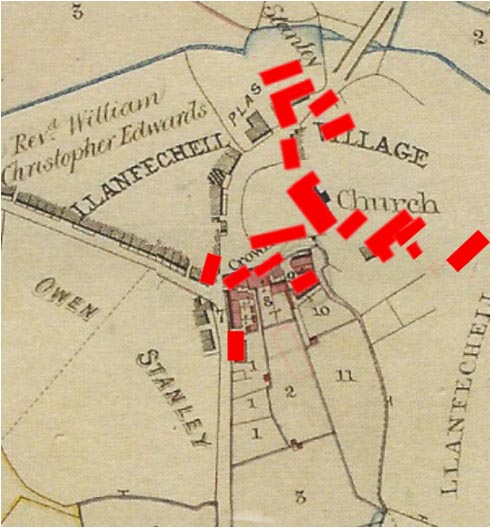 1805 Llanfechell superimposed on 1875 Llanfechell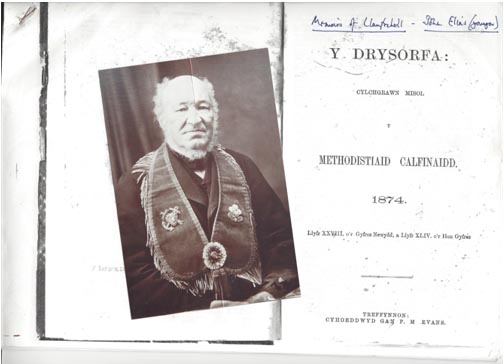 30 pages (18,000 words) of JE's recollections of an up-bringing in Llanfechell, anecdotes about people & places, in the early years of the C19.

Published the year before his death.

Warm, affectionate, intelligent, religious, non-judgemental.

Impressions of everyday life in a close Welsh rural community animated by new forms of local spiritual leadership.
'Atgofion am Llanfechell', gan John Elias 2nd - Y Drysorddfa, 1874-75.
('Memories of Llanfechell' (1800-c.1850), by John Elias 2nd, published in Y Drysorfa, the monthly journal of the Calvinistic Methodists, 1874-75)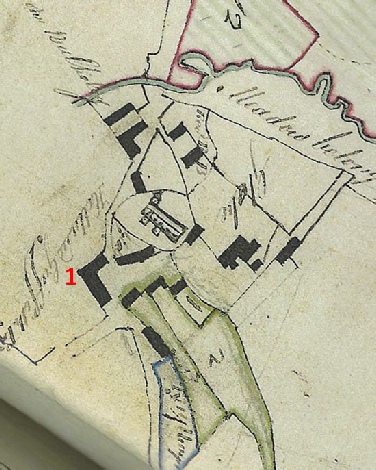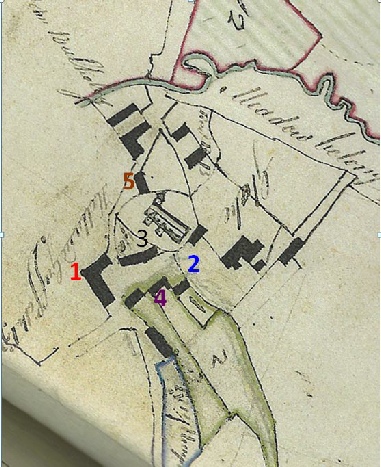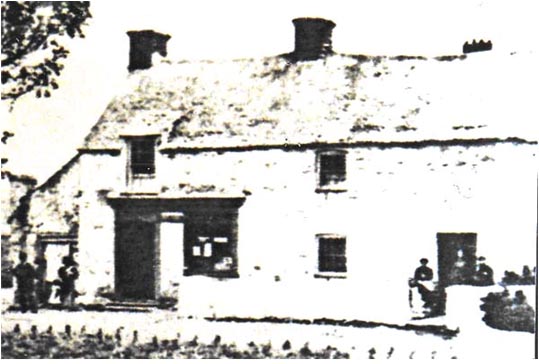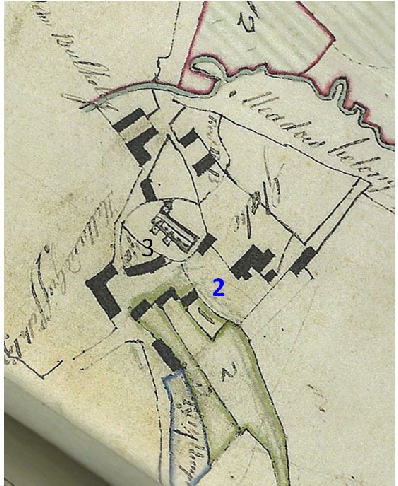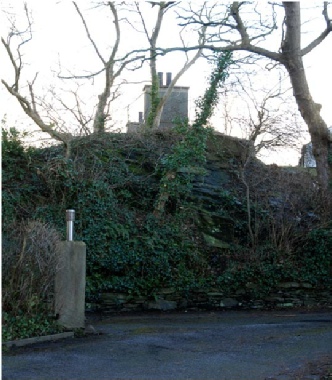 2. Penygroes from within the Rectory gate
'…a rock with a high wall where a cross used to stand, with benches of huge stones around it, where sellers sat with their sacks & baskets…A flat area for general use, still called Penygroes.'
The market area dates from Medieval times, and features repeatedly in William Bulkeley's mid-eighteenth-century diaries.
'Here too [in early 1800s], the Methodists held their occasional services, the preacher standing on a stool or chair by the public end of our house. Once, a man was hired to make weird noises to disrupt the service – but he died the following day, and it was believed he'd been judged for mocking Cxhrist's religion…'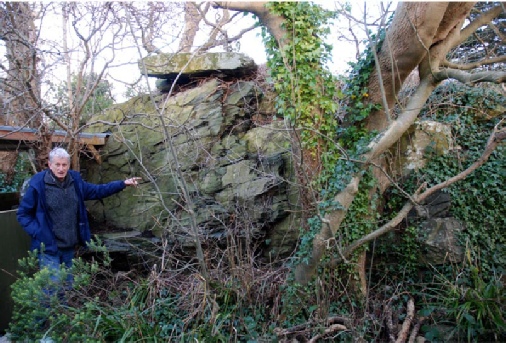 Penygroes rock , from within Penygroes garden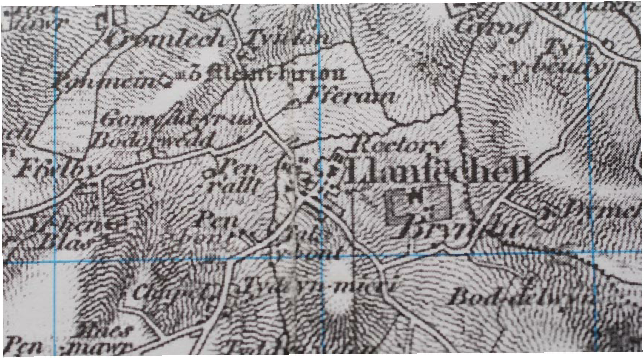 Core of Llanfechell in 1839 (from the first Ordnance Survey Map, 'Old Series' 1839-41)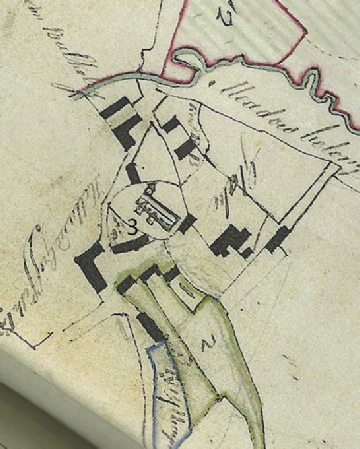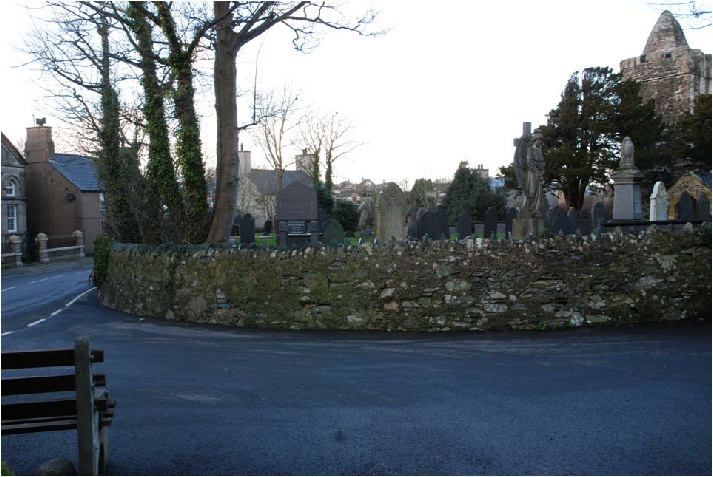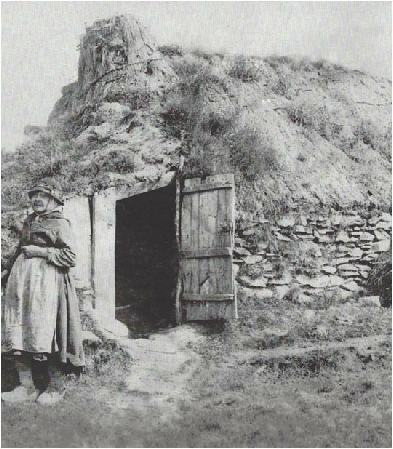 Jane Owen Edwards, nearest the church.

'A small thatched house with room only for a bed, a round table, a small spinning wheel, a stool with no chair, a shelf with a plate, a bowl & a spoon – and a box of snuff…'

Thread-spinner. Congregationalist, who walked to Amlwch port & back for worship every Sunday.
3. The three cottages -Jane's dwelling?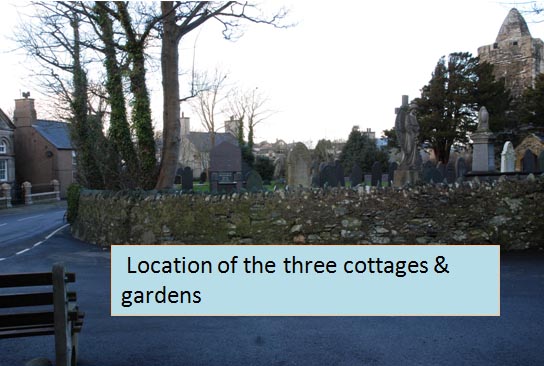 William Owen, tailor & watchmaker, a Baptist- with a room where the tailors worked. 'The local boys would gather there for a bit of fun, denigrating objects he praised, making him lose his temper and pull the thread too tight, so it snapped, to their wicked delight..'
And Ty Hall, the former meat market hall – where Hugh Pritchard, an old labourer, lived. Later, in the late-1840s, William Hughes parried legal efforts of the Rector, Roger Edwards, to take back the house & garden.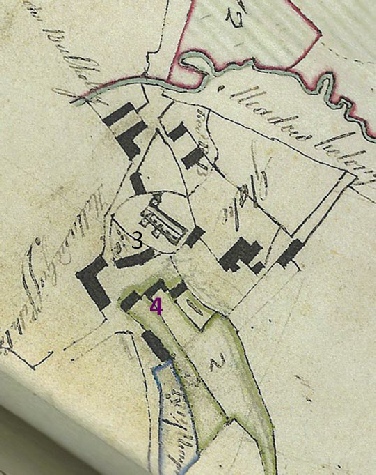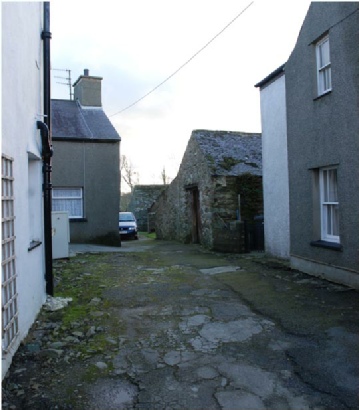 John (1

st

) & Elizabeth Elias married in 1799 & lived in a house owned by her uncle, Shadrack Williams, on the right, with their son & daughter, till Elizabeth's death in 1828.
The famed preacher travelled ceaselessly throughout Wales spreading the Gospel, whilst Elizabeth built up a shop almost entirely on her own. On her death, John Elias 2

nd

brought it even greater commercial success.
'..Often there was preaching there during the week…the preacher stood on the stairs with the congregation in the kitchen and the parlour, in the lofts and on the stairs behind the preacher – every inch was full of visitors…occasionally…with the door open on account of the crowd assembled outside, and the wind blowing – but the religious fervour ensured that no one suffered cold…'
4. Was John & Elizabeth Elias's house (& shop) part of the right-hand structure? Siop Newydd lane today…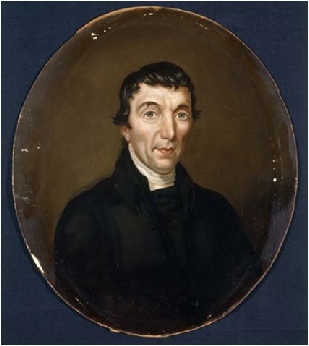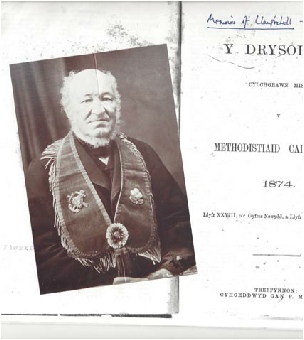 John Elias, father (1774-1841) & son (1800-1876) – a feisty relationship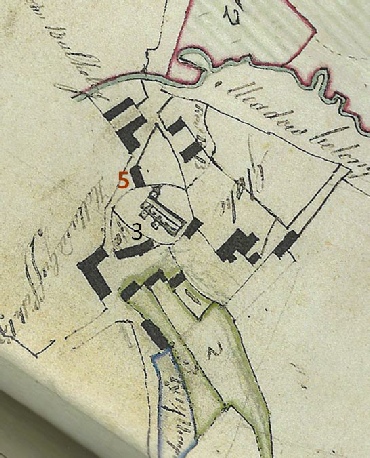 Centre of Llanfechell farming gossip in the mid-C19.
5. Tan y Fynwent & smithy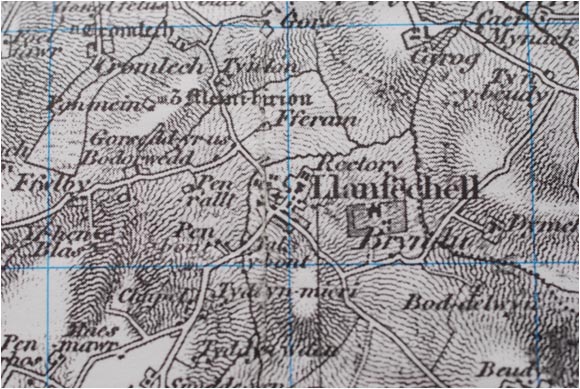 This initial Libanus Sunday school was funded mostly by farmers – Tai Hen, Rhosbeirio, Bwlch & others. Just as the Maes Mawr, Carrog, and Bryn Clyni familes played central roles in creating Ebenezer (Independent) and Calvaria (Baptist) chapels respectively across the period.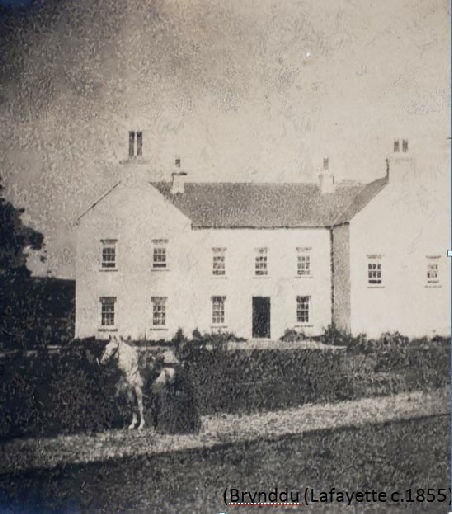 The Hughes/Hughes-Hunteramily owned many farms around Llanfechell & Cemaes.Strong Anglican links.
Brynddu iitself was leased to tenant farmers for most of the 1805-60 period, in the wake of the late-C18 family shift (through marriage) to Plas Coch, Llandewen, on the south-east of the island.
Occasional visits from Sir William Bulkeley Hughes, sometimes with friends wanting to see Parys copper mine, 1810-20.
On such occasions, Gwen the post-woman was 'freely admitted to the parlour'. 'She bore the letters from Llangefni 2 or 3 times a week, in a 2-gallon jar inside a satchel'... Smoked a pipe -and no abstinence. A half-penny for every letter delivered. Swapped yeast for flour. A character, strong & trustworthy.
And Brynddu during this period?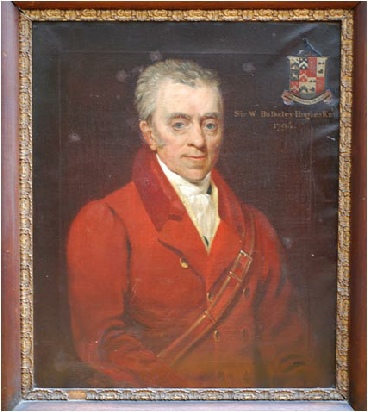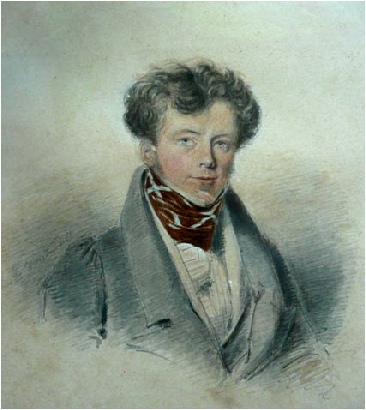 Brynddu owners Sir William (l) and son William (r) Bulkeley Hughes (1798-1882). The latter funded Llanfechell Church School (Penbodeistedd) (in 1848), Ebenezer burial land (in 1860 & 1879)), & major restoration of the Church (in 1849 & 1869).
His brother, the retired General Robert Hughes, lived at Brynddu in the 1860s & 70s, and acted as local Overseer of Highways.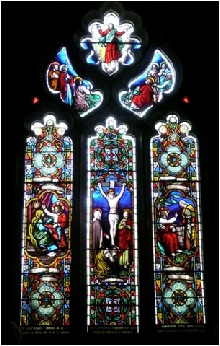 St Mechell Church, east window inscription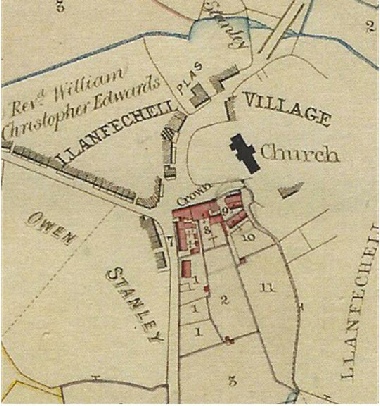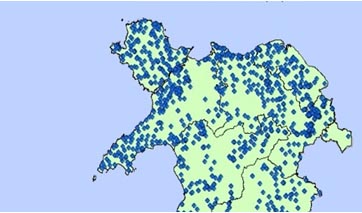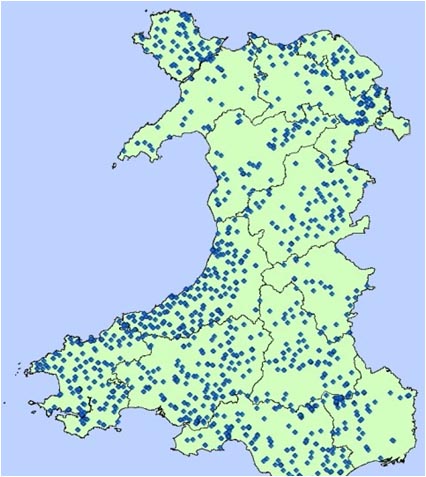 Spread of north Wales Calvinistic-Methodist chapels –
(L) 1851. (R) c.1900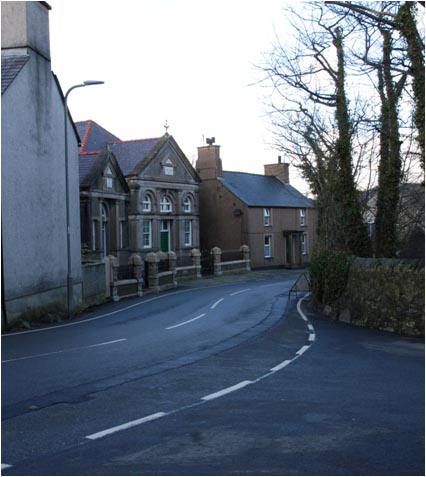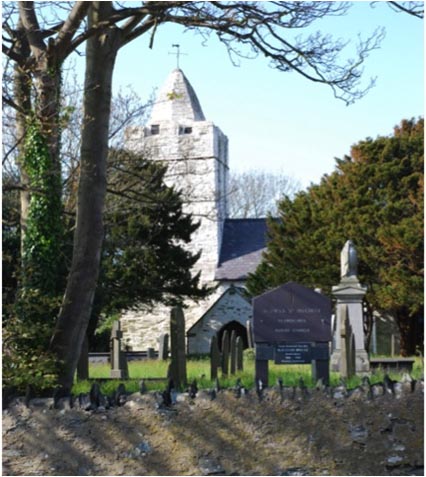 Accelerating dynamism of Welsh-language non-conformist denominations in Llanfechell, as across Wales.

Anglican churches losing congregations & unable to respond to their fading authority.

Tithe 'wars', 'disestablishment' & other justified non-conformist grievances.

Education a particular focus of concern and competition.

However, Church responded with effective school-building & new/restored churches during the second half of the century.

All of these issues were experienced directly in C19 Llanfechell – and helped to reshape the village

.
Rev Lewis Hughes (1783-1824)
Rev Roger Edwards (1836-1868)
1800-1880 -
Lively times for Rectors of Llanfechell…
Self-contained, but wider-world influences.
Mutual help & collaboration..
Llanfechell in the early/mid-C19
************************************************************************** *****************
****************************************
***************************************************************
***************************************************************
***************************************************************
***************************************************************
***************************************************************
***************************************************************
***************************************************************
***************************************************************
***************************************************************
************************************************************************** *****************
****************************************
**********************************************************************