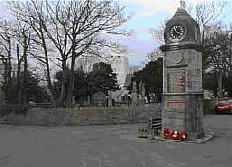 Our story begins in the Middle Ages, when the parish of Llanfechell was divided into two parts - Llawr y Llan and Caerdegog.
At Caerdegog, the chieftain of one of the 15 tribes of Gwynedd ruled. His name was Gweirydd ap Rhys Goch. A record of his lineage can be seen in "Griffiths Pedigree of Anglesey and Caernarfonshire" at Ynys Môn Archives, Llangefni.
Gweirydd ap Rhys ap Saddne ap Iarddwr
The Coat of Arms of Gweirydd ap Rhys Goch
Owain Gwynedd, son of Gruffudd ap Cynan, was the prince of Gwynedd at the time
The Cambrian Register notes:
" Gweyrydd ab Rhys Goch a gyvodes y tywysog yn bendevig"
It is believed that the word 'gwâr' (civilised) is the root of the name Gweirydd (also noted as Gweryd a Gwerydd). This was the name of one of the princes of Britain during Roman Times. He was more commonly known as Arviragus.
Of interest to us at Llanfechell, it is worth mentioning that Rhys ap Gwilim of Coeden was a descendant of Gweirydd ap Rhys Goch. (See the presentation on Coeden by Wyn and Liz Rogers on the History Society's website).
A great deal of information about the gentry and the social order of the period can be seen in 'Medieval ANGLESEY' A. D. Carr, Anglesey Antiquarian Society.
Llanfechell was part of the commote of Talybolion, Cantref (basic Welsh territorial administrative unit) Cemais. Together with Rhosyr ac Aberffraw, Cemais was one of the three Commotes on Anglesey, and therefore deserves its honourable place in the history of Anglesey. Caerdegog was one of the numerous townships and small villages in the area, with their names been familiar to us today. They are now names of farms on those lands e.g. Llanddygfael, Llanddygfael, Rhosbeirio, Bodewryd, Coeden and Clegyrog.
The farmhouse at Coeden in 1890. The house prior to that can be seen on the left of the photograph.
The headquarters of an area was the manor. There would be a church, demesne and mill close by. There was a feudal administrative and social order in place at the time. Caerdegog was under the rule of Gweirydd ap Rhys was the four 'gwely' (originally referred to a kindered group descended from a common ancestor and shared proprietary rights in its land Together with 'gwelygordd' it came to be a term referring to the land itself as well.) The rights to these lands were handed down from one generation to the other, and nobody had the absolute ownership of them. 'Gwehelyth' was a term used to refer to kindered groups or linage, and the land in the hands of the groups was called 'gafaelion'. This form of unit of tenure was commonplace in the Cemais area.
We are reminded of these terms today in the names of farms on the Island e.g. Tregwehelydd and Phentre Gwehelydd at Bodedern, and Gafrogwy in the old Commote of Rhosyr
In common with the rest of Europe, society was divided into different layers. Your status would depend entirely on the circumstances of your birth. It was all tied to the land, and the different manner of farming.
'Pwy ydy'ch teulu chi felly?'
'Mae o'n perthyn i .....'
In the Middle Ages, the freemen of Wales depended entirely on their lineage. This shaped their status in society and the rights over their lands. It was the gentry that ruled over the lands in the townships, and it was all transferred to their descendants. They were free to come and go as they pleased. One of the other fundamental elements was the difference between the status of men and women. On the whole, women had little influence, and were not treated as equals to men.
Mention of these kindered groups can be found in the 1352 Anglesey Extent (a detailed account of the rents and duties owed to the landowners in each Hundred, by their tenants). Amongst them were the descendants of Rhys Goch at Caerdegog and Cemlyn.
Villiens were men without ancestry, born to that status. The bondman was tied to the soil and could not leave without his master's consent. He worked for his lord and was given a strip of land to grow enough crops to feed his family, and maybe he was able to keep a cow, pig or two and a few hens. His tasks were varied. Bondmen had to contribute to the freemen's sustenance by giving part of their produce to them. They also spent time taking crops to the mill and completing many other practical tasks for the lords.
At Cemais, in the Extent of 1352, we can see that things had started to change. Mention is made to three different types of tenants - Gwŷr mâl, Gwŷr gwaith a Gwŷr Tir Bwrdd. They had different responsibilities, regarding what they owed and to whom.
Gwŷr Mal – (According to T. Jones Pierce in 'Medieval settlement in Anglesey' they were regarded as freemen). They paid rates or rents in cash, and contributed to the prince's mill at Cemais and to the 'cylch' (billeting rights) of his stallion.
Gwŷr Gwaith – They owed an annual rent of 19s 9d, and they had to contribute to the mill, carry wood and stones and labour costs. For carrying as far as Penrhoslligwy, they had the right to be paid, not in cash but in drink.
Gwŷr Tir Bwrdd – They were the true tenants to the land that was set aside for the landlord, his family and home. Their rent was 12s 6d, and a contribution to the mill. They were expected to attend the sheriff's tourn (court). 'Tir Bwrdd' was referred to as the land that contributed food to the master. These tenants had no obligations to contribute to the agricultural labour services.
This social order and the way of farming slowly came to an end, because of the Plague and political influences beyond the island of Anglesey. Change happened as the result of the Glyndŵr Rebellion and the slump that followed. Lands were escheated and lost. New landowners appeared and 'a new society was emerging from the cracking shell of the old' (G.A.Williams- Owain Glyn Dŵr, Wales Through the Ages)
..........................................................
We now go to the second part of our story, and move to the nineteenth century after travelling from Caedegog to Glegyrog Uchaf, Carreglefn, in the parish of Llanbadrig at the time. Robert John Pryse was born there, in 1807. R. J. Pryse claimed he could trace his ancestry back to the Age of the Princes and Gweirydd ap Rhys Goch of Caerdegog. Moreover he used to say that he was an ancestor of Cunedda Wledig, an Ancient Briton leader, 328 B.C.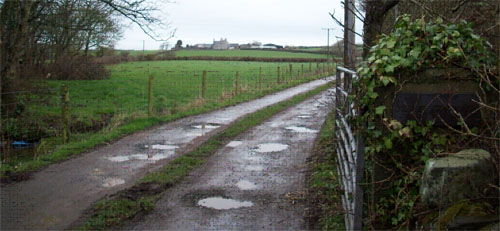 Pedigree is still important to the people of Anglesey!!
His early life and his varied career are noted in his autobiography (selections by Enid P. Roberts, Y Clwb Llyfrau Cymraeg /The Welsh Book Club, 1949).
Early Years
He was born in Beudy Glegyrog, Carreglefn. The old barn used to be a monastery called Anhunedd y Prân (Cambrian Register, vol.ii, page. 286). He was one of six children, and his mother died giving birth to her seventh child, who was stillborn. Robert was four at the time, and soon afterwards the family moved to live at ac Llandrygarn. They then spent some time at Aberffraw. When his father died in1818, aged 55, Robert was put under the care of the parish of Llandrygarn. Soon after, he was placed in the care of the family at Pentre Bwâu. He was warmly welcomed by the generous family, and he joined the workers on the farm. While he was there he taught himself to read and write, with the help of the family.
As a young man
At fifteen he went to live with his sister and brother in law at Bont-newydd, Llanrhuddlad. He worked at Bodronyn Mill with Huw Owen for a while, but he was not happy there. He was then offered and apprenticeship as a weaver with his brother in law
He took advantage of the numerous books at his sister's home to widen his knowledge and understanding of various subjects. He started attending the chapel at Llanrhuddlad, and especially liked going to the Sunday School. He was inventive in his pursuit to learn more about the Scriptures. He made a wooden frame to hang above the weaving machine, large enough to hold his Bible. He would read while working and he memorised a large number of chapters from the Holy book.
Following a disagreement with his brother in law he left Bont-newydd and spent some time with Siôn Wiliam at Gerlan, near Llanfairpwll. He was given the opportunity to learn new weaving techniques and he took advantage of the advice given by his master. He also worked for Thomas Jones, Tan-y-fron, Llansannan. That was where he came across special quilts called "Gwrliadau Stwff". Again he took every opportunity to educate himself. He was able to practise speaking English with Thomas Wynn, a local farmer. It was at Tan-y-fron, Llansannan that he started to read music.
He returned to Llanrhuddlad at the age of twenty in August 1827, where he started a new chapter in his life.
Marrying the daughter of Ynys Gwyddyl, Llanfflewin
He met his wife at the chapel in Llanfwrog. Grace Williams was the daughter of William Edward a Sian Ellis, Ynys y Gwyddyl.
We take a little diversion here to mention a reference to Ynys y Gwyddyl in the work of Angharad Llwyd "The History of the Island of Mona", Eisteddfod Beaumaris, 1832
She refers to the work of Thomas Pennant, 1726-1798 in 'Tours in Wales', Vol.3
Let me record that a few years ago, were found on a farm called "Ynys y Gwyddel", in the parish of Llanvlewyn … three golden bracelets and a gold bulla or amulet, in high preservation.
Bulla – worn round the neck by Roman boys under the age of 16 to fend off bad spirits. The material used to make the bulla e.g. gold, indicated the importance of the tribe.
The Irish Connection – during the Bronze Age, between 1150 BC and 750 BC they were also worn by Irish boys
(By coincidence Gweirydd ap Rhys showed an interest in spirits and devils for a while, until he realised that it was "all a deceit to draw money from the pockets of the ignorant and superstitious"!!)
Click on map to see larger version
After their marriage in 1828, they live in the chapel house at Llanfwrog and they then moved to a cottage called Cae Crin, where they raised their family. He continued to expand his knowledge of Welsh and English grammar and Music. He also studied the complicated rules of Welsh poetry. His work as a weaver came to the attention of a Mrs Williams, Llanfairynghornwy, and he created many intricate items for her, using various coloured silks and threads. To obtain these silks and threads, he had to walk to Bangor. He was considered an expert on "herringbone" work, but by now he concentrated on making capes and waistcoats that were sold by Mrs Williams to gentlemen and ladies from far and near.
In 1832 he was asked to make a special cape for Princess Victoria), who was visiting the Eisteddfod at Beaumaris. The cape was presented to her by Sir R. B. W. Bulkeley, Baronhill. Shortly after the Eisteddfod, the maker of the cape received £30 from the Princess as a token of her appreciation. He later learnt that the story was reported in the Welsh national weekly 'Y Cymro', at that it was stated that the "Royal Weaver" got £50 for his masterpiece. Clearly, £20 had found their way into someone else's pocket on their way between London and Llanrhuddlad!
His literary work
At the beginning of 1848, he sent a literary piece on the theme "Cyfarwyddyd Gorau i Gymro i Ddysgu yr Iaith Seisnig" (The best guidance for a Welshman to learn the English language) for a competition arranged by Thomas Gee, Denbigh. He was deemed the winner, and was given further commissions from Gwasg Gee, the publishers.
Sometime after that, he met a young man originally from Amlwch, who had emigrated from Anglesey to California, known as 'Ynysog'. Ynysog gave Gweirydd ap Rhys a walking stick as a gift. It was a beautiful stick, the top carved like an umbrella, circled with silver. Carved at the top was the name Gweirydd ap Rhys.
"As an acknowledgement that I was able to learn to speak English through your guide Cyfarwyddyd i Gymro i ddysgu'r iaith Seisnig" Ynysog told him.
Many other publications followed the following being amongst them.
Many other publications followed the following being amongst them
• Gramadeg Cymraeg - Welsh Dictionary
• Geiriadur Cymraeg a Saesneg - Welsh and English Dictionary
• Credoau y Byd – dwy gyfrol 2 volumes of World Religions
• Hanes y Brythoniaid a'r Cymry – dwy gyfrol - 2 volumes 'The Britons and the Welsh'
• Beibl Teuluol – editing a family version of the Bible
• Cyfieithu pamffledi Gladstone 'Vatican Decrees' -translation
• Enwogion y Ffydd - Famous people of the Faith
• Hanes llenyddiaeth Gymreig -The History of Welsh Literature from 1300 to 1650
• Hanes a Nodweddion Diarhebion Cymreig -the History and features of Welsh Proverbs.
In 1852 he contributed many articles to the encyclopaedia known as 'Y Gwyddionadur Cymraeg'
"This national work – the literary masterpiece of our nation – is more credit to him than anyone else" – Rev. R. Hughes – 'Enwogion Môn'
Eisteddfod Aberffraw 1849
He decided to apply to become a member of the 'Gorsedd' of Bards. He was accepted under his poetic name "Gweirydd ap Rhys", as a 'Bard of Honour and Ceremony'
Towards the end of his life
The death of his son John Robert Prys (Golyddan) at twenty two years of age had a deep effect on him, and he did not write much about himself after that. He went to live in Bangor, where he became the editor of a weekly newspaper called "Papyr y Cymry". When the publishers encountered financial difficulties, the newspaper ceased to be. After that, his livelihood became uncertain. At times, he had to apply for financial support from the nation. He made an unsuccessful application for money from the "civil annual grant for old authors". We the help of fifteen Welsh Members of Parliament, eight Justices and eighty Clerics, he was able to gain £150 from "Civil List Pension" in 1883. Another means of getting money was to continue to compete at various Eisteddfodau and win prizes.
In 1884, he went to live at Holyhead with his daughter Catherine (the bard known as Buddug). His wife died in 1887 and was buried at Holyhead. It was in Bethesda, at the home of his daughter Elin, that Gweirydd ap Rhys passed away, and he was laid to rest at Holyhead with his beloved wife.
...........................................................................................................
Our journey draws to a close at Seilo Chapel, Cefn Coch.
We know that Gweirydd ap Rhys attended the chapel at Llanrhuddlad for a number of years, but he became restless there. He decided to join the Independent congregation in Ebeneser Chapel at Llanfechell and he walked the three miles there and back. Walking with him was John Roberts (Edeyrn), Pandy Cefn Coch. They started discussions on the possibility of having an Independent chapel between Cae Crin a Phandy Cefn Coch, so that they did not have to walk the long distance to Llanfechell
It was decided to erect the chapel on a piece of land at Carreg Cam and Gweirydd ap Rhys was responsible for securing the plot. A few shillings were paid for the lease of twenty one years. John Roberts (Edeyrn) was the main benefactor.
.
The cost of building the chapel was £130, with Edeyrn contributing £100 and the remaining £30 came from other contributors. Edeyrn was made keeper of the Deeds. Seilo Chapel opened its doors on November 14th 1838. There were 10 members originally, increasing to 50 in six months.
The chapel depicted through the skilful quilting work of Jane Williams, formerly of Penygroes, who is a member of the congregation at present
The inside of the house of worship today
Some of the ministers at Seilo
Official documents relating to the registration of the chapel in 1954
Official documents from1959, giving consent to administer wedding ceremonies at the chapel.
The first wedding at Seilo – John Rowlands Ty'n Cae, Llanrhuddlad and Eirwen Jones, Penyrorsedd
Celebrating 150 years, in 1988
Seilo Chapel in 2014
The chapel opens its doors weekly. A service is held every Sunday afternoon, with a small, faithful congregation attending. The building was renovated a few years ago, and it is in good condition. There are tenants in the chapel house, completely independent of the chapel itself.