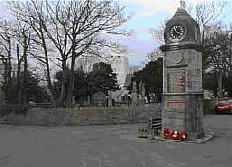 with thanks to Mrs Eluned Jones, Maes Mawr
The Old farmhouse at Maes Mawr
The story is connected to Maes Mawr Farm, Llanfechell, and dates back to the first half of the nineteenth century
What is 'Mona Marble'?
Definition: An ophicalcite from the metamorphic series of the Isle of Anglesey
Appearance: When polished, look like marble.
Where is the evidence?
In the walls Some have stood for a long time
********************************************************* *
Some have been rebuilt or raised during the last few years by Bryn Owen, who works on the farm
********************************************************* *
Around the old house- by the old water pump
A map from 1891, seen on www.old-maps.co.uk shows the existence of a quarry on the land at Maes Mawr, between the farmhouse and Ebenezer chapel.
The old quarry as it looks today
There are two types of the rock. Here are photographs of large boulders found on the surface today.
Historical:
References are made in documents like the 'National Gazetteer 1868' and
'A Topographical Dictionary of Wales, Samuel Lewis, 1833' that mention Llanvechell, Llanbadrig a Cemmes (Cemmaes). The rock is described as 'serpentine' and 'verd antique'
www.genuki.org.uk/big/wal/AGY/Llanfechell/Gaz1868.html#NatGaz
www.genuki.org.uk/big/wal/AGY/Llanfechell/Gaz1868.html#Lewis
www.genuki.org.uk/big/wal/AGY/Llanbadrig/Gaz1868.html#Lewis
There is also mention of sites at Rhoscolyn, Penrhosligwy and Llandyfrydog.
What is George Bullock's connection with the story?
Much information was gained about him, and his connection with Maes Mawr from Clive Wainwright, Lucy Wood and Timothy Stevens, seen in a book named 'George Bullock, Cabinet Maker', John Murray,(Publishers) Ltd, in association with H. Blairman & Sons Ltd, London, 1988.
We are indebted to the late Sir Kyffin Williams for taking such an interest in the history of Mona Marble, and arranging for representatives from the National Museums and Galleries on Merseyside and others to visit Maes Mawr over the last twenty years.
Evidence about his personal and family background is scant.

He was born in 1782 or 1783

As a young man, he became well known for making ornate cabinets, and building chimneypieces of marble.

With his brother, he owned businesses in Liverpool and London.

By 1806, he had bought the right to mine for Mona Marble in the quarry at Maes Mawr, for £1000.

In 1813 the Mona Marble Works was opened in London.

He was friends with Sir Walter Scott, and made a bust of him.

He took part in the restoration of a monument to Shakespeare in Stratford upon Avon, and he made a cast for a sculpture in memory of the famous bard.

It is believed that he worked on the restoration of a house called Hafod in Cardiganshire. The house, which was badly destroyed by fire, belonged to a certain Thomas Johnes. There was extensive use of Mona Marble in the restoration. (Thomas Rees, Dolaucothi Correspondence V22/6, at the National Library, Aberystwyth a 'The Beauties of England and Wales.....Vol. .XVIII,' 1815 pp422-423,)

His connections with Napoleon are widely known. He was commissioned to make pieces of furniture for Longwood House, his home on St Helena. For example, Mona Marble was used as a top for one of the tables. (Angharad Llwyd, 'A History of Mona or Anglesey', Royal Beaumaris Eisteddfod, 1833)

He was very keen to build a monument to Nelson in Liverpool. He made a model and wrote a pamphlet to advertise his design to the city's council, but his dream was not fulfilled. Had he intended to use Mona Marble in his masterpiece? We will never know!

Following his early death at 35 in 1818, he was buried in St George's, Hanover Square, London.

His business was still listed in 'Kent's London Dictionary' until 1821
What remains of his work today?
Some famous pieces of his work have survived in good condition.

Through grants, they have been secured for the future
e.g.
The Art Fund www.artfund.org
V + A Purchase Grant Fund www.vam.ac.uk
Pieces of his work can be found in museums and stately homes such as Aston Hall, West Midlands; Sudley Hall and the Walker Art Gallery on Merseyside; Abbotsford, The Borders, and the Fitzwilliam Museum, Cambridgeshire.

One example is the pair of side cabinets at Sudley House, manufactured in 1816 and bought in 1981 for £10,000

Exhibitions of his work were staged at London and Liverpool in 1988, with public and private collectors lending their belongings towards them.
Speke Hall, Liverpool
Photographs by courtesy of the National Trust
George Bullock was responsible for restoring much of the furniture at the Hall in 1811. Mona Marble was used in building the chimneypiece in the Great Hall.

In the mid 1990's, a request was made to the present owner of Maes Mawr for a piece of the rock, to be used in the restoration of the chimneypiece.

A large boulder was taken to the Cliveden Estate the South of England to be cut and polished, and then it was returned to Liverpool to be fitted in place.

A record of the event is kept in a document at Speke Hall today.
Penrhyn Castle
Mona Marble was used in many of the rooms at Penrhyn Castle.

The chimneypiece in the Slate Bedroom has been described as 'one of the most spectacular in the castle'
www.nationaltrust.org.uk
( Penrhyn Castle, National Trust, Centurion Press Ltd, London, 1991)
Locally
In the 1950's and 1960's, Hywel Owen from Bodffordd took a keen interest in the rock and quarry at Maes Mawr.

He was a talented stonemason, and had an extensive knowledge of Geology.

It is known that he used pieces of the rock were to build a fireplace at Bwthyn Pêreos, Cemlyn, for the late Hywel Hughes, surgeon at the Royal Hospital, Liverpool.

The pupils at Llanfechell Primary School in the same era learnt about the Mona Marble and other rocks on Anglesey, with the headmaster at the time, the late Councillor Richard Jones O.B.E. Annedd Wen.
(Click on all photographs to see larger versions)