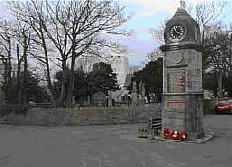 with thanks to Mrs Marian Davies and Mrs Maureen Jones
David James Jones was born in Llaneugrad in 1829. When he was 22 he joined the Royal Welsh Fusiliers ( 23rd Foot) at Chester. After a brief spell in Bulgaria and Turkey he arrived in the Crimea two days before the Battle of Alma in September 1854. His commanding officer, Colonel Chester, cousin to the wife of Henry Owen, vicar of Llangefni was killed in the battle.
The following month David Jones was at the Battle of Balaklava. The electric telegraph was newly invented and this was the first war for a photojournalist to be present at, sending reports to The Times. It was only then that people fully realised the conditions that the soldiers had to endure.
British tents at Balaklava
Click on photographs to see larger versions
Winter came quickly with snow and a hurricane. Twenty one of the allied ships that were carrying stores and munitions were sunk leaving the soldiers cold and without shelter.
To keep warm the Allied soldiers would take clothes off the dead Russian soldiers.By now sickness was rife, cholera, dysentery, with more soldiers dying from sickness than from war wounds. Nearly five hundred soldiers died on their way home.
Florence Nightingale arrived in the Crimea with 38 nurses in the hope of improving the hopeless situation there. David Jones along with others had the honour of carrying her over the heights of Alma. A few years after the war ended he sent her a well wishing letter when she was ill and she sent a kind reply. It is rumoured that she gave him a gift of a gold ring.
David Jones was also at the year long battle at Sebastopol and was present at the death of Lord Raglan. When peace was declared in April 1856 the regiment returned to Aldershot where he "bought" himself out of the army and returned to Anglesey with 2 medals – The Crimea Medal 3 bars and The Turkey Medal for good service to his country.
***********************************************
In April 1857 the new Anglesey Constabulary was being formed and David Jones was appointed one of the 18 constables that would serve Anglesey. Their training was held at the town hall in Llangefni. He served at Llangefni, Holyhead, Menai Bridge, Llangoed and Llanfechell. ( C 5 )Caergybi, Porthaethwy, Llangoed a Llanfechell.
********************************************
In October 1859 the ship The Royal Charter was carrying 450 passengers and nearly two tons of gold from the goldmines of Australia to Liverpool. Nearly home she was faced with one of the worst storms of the century and floundered on the rocks at Moelfre with a huge loss of life. Among other officers David Jones was sent there to keep order when the gold was washed ashore. The value of the gold at that time was £320,000. ( £35 million today )
Mr. Trygarn Griffith and his daughter (later Lady Reade, Garreglwyd, Llanfaethlu ) along with the Chief Constable Mr. Wyn Griffith visited the site of the stricken ship. It was a very wet day and David Jones carried Lady Reade over the dangerous rocks. It was a gesture she never forgot as she sent her regards by letter, occasionally, over the following years.
David Jones left the constabulary soon after and married Elizabeth Owens at Bangor Cathedral.
********************************************
In Llanfechell
They moved in to The Crown Hotel, Llanfechell.
The Crown Hotel belonged to the Brynddu estate.
D. J. Jones' name can be seen above the door
All red coloured properties belonged to the Brynddu estate.
At that time it was not compulsory to apply to local justices for an ale license ae excise authorities could issue a licence also and very few records were kept. It was much later that it became compulsory to apply locally and for records to be kept.
On the 1861 census David J Jones ( Licensed Victualler ) and his wife Elizabeth are seen staying with relatives in Liverpool. The head of household being a Superannuated Officer of Customs. Could he have obtained his ale license here?
However in March 1861 David Jones found himself on the other side of the law when he was fined 10/- and 10/- costs for selling ale out of hours – on a Sunday! Unless the fine was paid forthwith his possessions could be seized and sold and if it was insufficient to cover the costs he could be imprisoned at the House of Correction for 3 weeks hard labour.
Then in May 1865 he was fined 5/- and 11/- costs for allowing his 2 cows to stray.
********************************************
Overseer of the Poor
Only persons of good social standing were allowed to vote for a Knight of the Shire. On the list David James Jones can be seen as the occupier of Crown Inn and Brynclyni. It is thought that he held only the Brynclyni land and not the house.
The list is signed by D.J.Jones, Richard Hughes and Thomas Williams as Overseers of the Poor of Llanfechell.
When an overseer was chosen, to refuse the post could result in a fine. It was unpaid, except pay for only reasonable expenses. It was a difficult job, balancing compassion with costs.
Duties would include:
Collecting rates to cover the costs of relief to the needy
Finding care for illegitimate children and finding the father, so the child was not chargeable to the parish
Moving along rogues and vagabonds to be sure they did not become chargeable to the parish
Setting to work all those unable to pay for their necessities, either as apprentices to farms or by assignment to the house of correction
Handing in their accounts each year for evaluation
David Jones was a member of the Board of Guardians for over thirty years with parish matters being his first priority. He was well known for his charity and kindness – being known to all as "Jones the Crown".
Register of 1871 Election
David and Elizabeth Jones had 2 sons, Frederick James and Thomas Owen and a daughter Elizabeth Jane who died aged 7 in 1869.
******************************************* *
Anglesey Eisteddfod at Llanfechell 1877
A report of the Anglesey Eisteddfod held at Llanfechell in 1877 describes Llanfechell as being a pretty village and the untiring work and welcome of the villagers making the Eisteddfod a success. The Eisteddfod field had been rented cheaply from D J Jones, The Crown. A splendid marquee that could hold nearly two thousand people was erected.
********************************************
Family life and work in Llanfechell
The eldest son Frederick James married and resided in Chester while his brother Thomas Owen, along with Peter Edwards went to America, staying with Thomas Owen's aunt and uncle in Utica, New York. They had both returned by the following year as can be seen on the 1881 census. Peter Edwards ( accountant ) was the vicar Roger Edwards' son and he resided at the Crown until the death of David Jones.
His hotel business was thriving as can be seen from the 1881 census when 11 people were staying or living at The Crown – David J. Jones & his wife Elizabeth, their son Owen Thomas (baker), Peter Edwards (accountant), 3 cloggers, 1 farm servant, 1 domestic servant, 1 waiter/hotel servant and Ann J. Williams their niece (dressmaker).
In 1887 after nearly 30 years of marriage Elizabeth Jones applied for separation from her husband, David Jones. It was agreed that he pay her 6/- a week maintenance.
As well as running a hotel and holding a post as "overseer of the poor" David Jones had a conveyance business. He had many horses and various carriages for all occasions including arrying people to and from Rhosgoch railway station to all areas of North Anglesey. When Major Owen Thomas returned from the battlefields it was David James Jones who led an escort of tenants on horseback from Rhosgoch railway station to his home in Cemaes. Windows were lit and banners waved in Llanfechell to welcome him home.
Sheds behind the Crown where D J Jones kept his carriages
This is one of David J. Jones' carriages celebrating May Day in 1898. His initials can be seen on the saddle. The boy with the bugle is Owen John Owen, Maureen Jones and Joan Davies' grandfather.
David Jones was appointed Constable of the Manor by the Plas Coch and Brynddu Estate.
The Manor being all land owned by the estate. They would hold manor court at regular intervals to deal with legal and property matters – equivalent to police and local council.
********************************************
David Jones' son- Thomas Owen Jones
David Jones' son Thomas Owen Jones having made his fortune in America, returned home and married his cousin Sarah Elizabeth Williams. They adopted her niece ( Ann J Williams's daughter).
The 'Anglesey Trading Company'
Thomas Owen Jones and his wife Sarah Elizabeth are in this photograph but what their involvement with the company was is unknown.
Thomas Owen Jones bought the Vigour in Cemaes. It was a very popular hotel with holidaymakers for the beach, fishing and shooting parties.
Thomas Owen Jones also carried the tradition of conveyance but by now travel had advanced so he bought a bus named The Alma. Could it have been named in honour of the battle his father had fought in?
Thomas Owen Jones and the Alma
His wife, Sarah Elizabeth owned the bathing vans on the beach at Cemaes.
********************************************
David James Jones' death in 1912
David James Jones died in February 1912 aged 83. The news shocked and saddened the whole area and a large crowd attended the funeral to pay their respects to "The Grand Old Man of Llan". Also present were many military persons and it was on their shoulders that he took his last journey from The Crown Hotel where he had resided for over 50 years and laid to rest at St Mechell Church, Llanfechell under a tree he had planted a few years before. The Last Post was sounded at the graveside. He was the last but one remaining Crimean veteran on Anglesey. Among the mourners of family and friends were Sir W. B. Hughes-Hunter, Bart and Lady Hughes-Hunter of Plas Coch and Lady Reade of St Leanords-on-sea. Colonel Hampton-Lewis, late of the Dragoon Guards, Colonel and Mrs Thomas, Cestyll. Captain and Mrs Mackuan, Cemaes.
Tributes sent were "To a veteran who was worthy of his steel" from his comrades in arms, The Royal Engineers, Beaumaris.
"Sincere sympathy", from the Anglesey Territorial and National Reservists.
"Breast forward in the fight, and through a long-honoured life"
David James Jones, Crown Hotel, Llanfechell left £993 in his will. (£56.000 today). In his will he appointed his two sons Frederick James Jones and Thomas Owen Jones to be his sole and only executors and to share and divide his worldly possessions in a calm and peaceful manner. The grandchildren would inherit 20% if the value of the estate be more than £200. 10% if under £200. To his wife Elizabeth Jones he left £1.1s.0d. and to have no further claim whatsoever on his estate or property.
Elizabeth Jones resided in Cemaes and died April 1916. Despite being separated from David Jones for over 25 years they are both buried together at St Mechell Church, Llanfechell.
Examples of David Jones' carriages
3hp gas engine by the 'International Harvester Company'
********************************************
Thanks to the following:
Photographs - Mrs Maureen Jones, Mr Robin Grove-White, Mr D Newton, Mr Andrew Morris
Thanks also to the Vigour family for their co-operation.