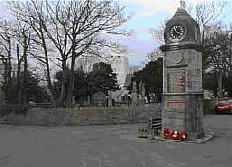 Click on images to see larger versions
The Anglesey Trading Company was set up in Llanfechell in 1896, by the three Principal Directors, AE Barkworth and HR Maxted (both from Yorkshire) and, more significantly, Owen Thomas (later General Sir Owen Thomas MP) of Llanfechell/Cemaes.

At its peak, about 80 tradesmen and apprentices were employed. Bought up large number of existing small businesses in & around Llanfechell, and directly employed about 80 of the people involved - including weavers. cartmen, tinmen, blacksmiths, saddlers, cobblers, painters, valuers, coopers, clerks, labourers. A fair proportion of these people can be named.
Many current Llanfechell families will have had relatives who were involved. Owen Thomas lived at Brynddu c. 1880-1900. He was also Agent for the Plas Coch-Brynddu estate in this period, as well as County Councillor for Llanfechell. He left Llanfechell in 1900, but is buried in Ebenezer chapel graveyard.

The offices of the Company were behind Crown Terrace..
The Company built Carreglefn School, Chapel House, Ebenezer house, Tiolfa Gadlys Hotel, Pen Padrig (Carreglefn), Tyddyn Mieri et al.

The Company failed in 1899. Over-ambition seems to have led to heavy losses. Wound up, and stock auctioned off etc.
Nothing known of the fall-out or aftermath for employees from this collapse
The Anglesey Trading Company, Llanfechell 1896-1899
By the late Mr Richard Jones OBE (translated by Mr Robert Williams, Neuadd, Cemaes).
Whilst visiting some houses in Llanfechell, I noticed more than once some round china plates, black with the words 'Anglesey Trading Company 1896' in gold paint written on them, adorning the dressers.
*************************************************************************
One, who was there as a blacksmith was Ben Jones, Pen 'Rallt, who today is 88 years old. Another person who gave me a lot of information was the late Captain Owen T. Evans, Swn y Mor , Cemlyn, a nephew of the late General Owen Thomas, M.P.
My first impression about the venture was of a number of craftsmen and workers working together for the benefit of all. General Owen Thomas was to become Anglesey's first labour Member of Parliament. He was one of the leaders. It was not unreasonable to suppose that a second Robert Owen and his New Lanark existed here. How misleading this turned out to be! There was very little foresight behind the formation of the ATC. It was a combination of events that had taken place, and not enough forward planning of the business.
In 1890, or thereabouts, in Llanfechell, there was a small successful company called O.T. Evans & CO, although O.T. Evans himself had no financial hold on the company. It belonged to Capt. Owen Thomas (later the county MP) The Rev. Isaac Humphries had a large stake in the company also (His mother used to bake small, round bread loaves to be shared out in church on a Sunday, once a month).
John Jones, carpenter, left his workshop and went to farm Cae Coch. His partner and nephew, John Parry, had no other choice but to work for O.T. Evans & C0. The talented John Parry was the founder of the builders Parry & Hughes of Llanfechell. About 2-3 years later Evan Owen, Ty Bach, Carreglefn, and his son joined the company and it became possible to take on bigger contracts. The company continued to flourish. It was apparent that Owen Thomas, who lived at Brynddu, enjoyed the taste of the company's success and decided to expand it further. He heard of two summer visitors (very scarce in those days) staying at Bryn Mechell Hotel. They were two wealthy Englishmen from Yorkshire and their names were A.E. Barkworth and H.R. Maxted. In 1896 Owen Thomas succeeded in persuading them to become joint company directors with himself and to name the new company the Anglesey Trading Company. This was an enlargement of the old small company and every business and craft in the area was bought up so employing all the workmen in the new company. They employed cartmen, weavers, tinmen, blacksmiths, saddlers, cobblers, painters, valuers, coopers, clerks, apprentices, labourers , etc. The company could take on any work in Anglesey. They built Carreglefn School; Ebeneser Chapel House, Llanfechell; Triolfa, Carreglefn; The Gadlys Hotel, Cemaes; Pen Padrig, Carreglefn.
At one time about 80 were employed by the company. Leather was obtained for the company from the tannery, Caernarfon. The company could supply anything from shoelaces to hay cutting machinery. Ten years ago local farmers were still using hay cutting machines bought from The Anglesey Trading Company. During the 1939-45 war the late Edwin Jones (son of Ben Jones, who was a cobbler with the ATC) was still sharing out the Company's shoelaces in Llanfechell district! The two foremen Evan Owen and John Parry earned 24/- a week. The top craftsmen, like Ben Jones, got 21/- as a cobbler and also Richard Hughes Bwchanan (who died a young man of 32 years). He was the father of the brothers John, and Ritchie Hughes who expanded the business of builders Parry & Hughes. The apprentices served for 18 months and by working daily to 4 o'clock in the afternoon they would earn 5/- a week as a starting wage. Cleaners earned 2/- a week.
Owen Thomas also opened the brickworks in Cemaes, managed by a Mr Tidy, 'Storws, Cemaes. The brickworks were a bit of a failure because it was said the lime content was too high.
The company failed to flourish as the managers had hoped. An indication of this came in 1898 when Mr Maxted said to Huw Williams, plasterer, (Cefn Glas until his death in 1965), "If you have any money put it in the ATC and you will loose it quickly". There were various reasons for this deterioration in fortunes. Neither Maxted or Barkworth had any experience of running such a business. Both of them were suspicious of the workers because they did not understand their language. They employed two English clerks from Rhyl to look after 'things'! The workers took offence at this attitude, and it was thought that some of them yielded to dishonesty, because the doubts were there already. Others thought that Maxted and Barkworth were much too ambitious, and therefore in too much of a hurry to expand. They bought too much at a time, for example they would many loads of coffin decorations and tens of thousands of shoelaces! The demand was never equal to the order (fortunately when one thinks of the thousands of coffin plates!). It's no wonder that the shoelaces were still in circulation in 1943! Maxted was a very generous man, but Barkworth on the other hand was a real miser. The latter lost a penny on the storehouse floor once and spent a whole morning looking for it!.
The Gadlys Hotel in Cemaes was built by the company without estimating the cost. When Owen Thomas made an application for a licence for the Gadlys, he was turned down by the magistrates at Amlwch because of the strong spirit of temperance in the land. The fine hotel had to be sold cheaply as a private residence to a Colonel Wilson. Gadlys is only one example of the heavy losses that the ATC made. By 1899 the Company's books looked so gloomy that an application was made for permission to wind up the Company.
A sale or auction was held for days in the Company workshops and stores behind the Crown Terrace. Not enough money was raised to pay the Company's debts and more goods had to be put up for sale at a later date at Brynddu.
Thornton Jones, Solicitors of Bangor, were responsible for winding up the Company and did so successfully, so as to pay 20/- in the pound to all the shareholders. The craftsmen all went back to their workshops and small businesses but with much more success. It is odd that the failure of the Company was to lead to such a good start to many who were employed by it. The three directors, together with the Chief Clerk, Owen T Evans went to the South African War.
The last time that Maxted was seen by Owen Thomas, he was doing his square-bashing in Portsmouth – being trained to be a soldier with the Yorkshire Regiment. Barkworth was on the Titanic when it struck an iceberg and sank in the Atlantic in 1912. He was rescued from 'going under' for a second time. Owen Thomas was a captain of the Territorial Army or 'militia' or 'volunterrs' before 1899. He formed and led the Prince of Wales Light Horse in Africa. He was raised to General but lost his three sons in the 1914-18 war. In a Parliamentary election he beat Sir Ellis Jones Griffiths, a well known liberal by 186(?) votes around 1921. He represented Anglesey as it's first Labour M.P. in Westminster. He was a very kind and popular man. There is a Memorial to him in Ebeneser Chapel, Llanfechell, where he was a Deacon and Sunday School teacher until his death in 1923.
The plates stamped Anglesey Trading Company are still around. The Gadlys is still standing, Ebeneser Chapel house and many other buildings. They all stand as a memorial to the Anglesey Trading Company. The colourful characters that were connected with the Company still live in the mind of the only one left alive today- craftsman blacksmith (still strong in the arm)- Ben Jones, Pen 'Rallt.
*****************************************************************
Mr Barkworth on the TITANIC
Algernon Barkworth was a Justice of the Peace from Hessle, Yorkshire. While on holiday in Ynys Môn in 1898 he was persuaded by Captain Owen Thomas to invest in the Anglesey Trading Company that had been established in Llanfechell. He became one of the three managers of the company.
He sailed on the Titanic from Southhampton (Cabin A-23, ticket number270, ?30). He spent much of the time aboard the ship in the company of Arthur Gee and Charles C. Jones. Before retiring to bed on the fateful night he was informed that the ship's clock would be turned back one hour at midnight. He decided to stay up so that he could set his watch at the correct time. He remembered hearing the ship's band playing on his way to the cabin.
When he realised that the ship was sinking he wore a fur coat over his life jacket. He threw his hand case into the sea and jumped into the water. He felt that the fur coat and the case had helped him keep afloat and had, therefore, saved his life. In the water he held on to a plank of wood before making his way to Lifeboat B and although he was not welcomed by the thirteen people already in the boat he floated alongside for some time before dragging himself into it.
He died on Saturday 7 January, 1945 when he was 81 years old.
*************************************************************************
By the late Mr Richard Jones OBE (translated by Mr Robert Williams, Neuadd, Cemaes).