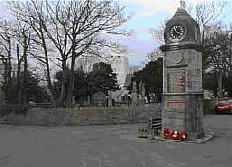 with thanks to Mr Wyn Rogers and Mrs Liz Rogers, Coeden
Click on photographs to see larger versions
fwy
The Early Bards - 1340
I would like to start the journey by reading an Elegy written in memory of Gwenhwyfar, wife of Hywel ap Gruffudd of Coeden and loving daughter of Madog one of the Powys royal family.In this Elegy praise is given to this lady for the welcome and kindness extended to the bards. Many evenings of bardic singing etc. were held at Coeden. This Elegy talks about Mechyll and Drym.
Gwenhwyfar was therefore, of noble birth, and it is no surprise that her body was taken all the way from Llanfechell to be buried in the chancel of the Llwydion Brothers' house at Llanfaes. This was a very popular burial place for the nobility of Anglesey and the vicinity during this period. Other women of high status were also buried there, such as Siwan, the wife of Llywelyn the Great to name but one.
This elegy can be found in the original hand-written form in the Red Book of Hergest which can be found at Jesus College Oxford
Overview
Coeden's history dates back to the aftermath of the Black Death, as the country and its inhabitants strived to recover from this harrowing ordeal. Although records referring to the estate only date back to the mid 1300s, it is safe to assume that its story is much older than that.
*******************************************************
Coeden's importance in the region is noted as far back as the 1300s and the aftermath of the black death, a disease that ravaged the country – killing countless men, women and children. It is estimated that disease killed 75 million worldwide…
The Extent of Anglesey
Following the Black Death, King Edward III commissioned a crown 'Domesday' survey titled the 'Extent of Anglesey'. During the month of September, 1352, people across the county of Anglesey convened at specific data collection points…
Compiled by John de Delves, the deputy justice of North Wales at the time, The Extent of Anglesey provided a record of the rents and services which were due to the ruler or lord from his tenants and possessions in each commote. It is considered one of the most valuable sources of economic and social history in North Wales…
One of the noted data collection points for the Extent of Anglesey (pictured left) was Coeden. It was here that all matters and services pertaining to the surrounding land were submitted and recorded. Such a fact underscores just how important the farm was at the time…
*******************************************************
Coeden, Clegyrog and William ap Rhys ap Gwilym
Overview
Land and title were widely coveted during this time and led to a great deal of difficulty, heartache and feuding between noted families and sometimes, if the dispute was severe enough, could tear a family apart. In this section we look at the first recorded transition of ownership between two such noted families and its consequences…
Legal Disputes
William ap Rhys ap Gwilym of Coeden Clegyrrog lived in the area during the reign of King Henry VIII. He inherited the estate in 1538, following the death of his father, Rhys ap Gwilym.
Although well respected by the nobility, Rhys ap Gwilym was extremely miserly. He entered into a legal dispute with his own nephew, Rhys ap Hywel ap Rhys. Rhys began a legal action, claiming he had been refused ownership of a nearby cottage, which he believed belonged to him. Alas, the nephew lost the case!
Winning legal battles was something of an inevitability when the Coeden Clegyrrog family was involved. Only 40 years previously in 1501, William's great-grandfather, Llywelyn ap Tudur was sued by an Englishman, Richard Hilley at the High Court of the Chancery no less!
William and the Poets
During this period, it was customary for houses in the region to accommodate poets and revel in their words. However, the situation at Coeden was slightly different to the time of Gwenhwyfar ….
It is written that at this time poets received no welcome at Coeden. This cold shoulder was attributed to William's wife, Sionet or Jonet, who was of English descent. Her great grandfather was none other than Sir Harry Bold, the Sheriff of Caernarfon. His family relocated to North Wales from Liverpool in the 1400s. It is speculated that her mixed heritage made if difficult for her to embrace the local traditions and customs.
Coeden during this period
Sadly due to the age of photography being centuries ahead of this time, we do not have any images of the estate when it was under the control of the Coeden Clegyrrog family. However, we do have descriptions of what the house looked like and, quite interestingly, the hygiene standards of the family…
"Their home was the usual wood-framed, wattle and daub, little plas, thatched with reeds from the Malltraeth marsh…"
"Inside it there was always a blue haze of smoke from the peat fire which was banked up every night, smoke which drifted slowly through the thatched roof…"
"Mingled with the reek of the smoke, the modern hypersensitive nose might have detected the tangy odour of the unwashed human body for it is highly questionable if William or Sionet or any of their five children had ever had a bath…"
William and the Military
According to information from sources such as the Anglesey Musters, William had a penchant for weapons. It is reported that he had an extensive collection of armour, swords and even had a dagger. William of course had military training and was an accomplished archer, ready for combat if the alarm was ever sounded…
William and Religion
Despite his love for instruments of war, William was far from warlike and sought comfort in his religion. It is noted that he was a blaenor in the local chapel and had a firm believe in the Christian faith…
"In other words, he was a good citizen who had he lived in the early years of the 20th century would have been a highly respected penblaenor in the local chapel of the 'Old Body' or an Alderman of the Anglesey County Council. He ruled his little estate admirably and left it flourishing, with results he could not possibly have foreseen…"
*******************************************************
During William's time, the great family of Anglesey was undoubtedly the Bulkeleys of Beaumaris. William's contemporary was Sir Richard Bulkeley and both gentlemen were well acquainted, having both been appointed as members of the Commission of eleven, which arranged for the assessment and collection of the Subsidy of 37 Henry VIII (the thirty seventh year of his reign).
Sir Richard Bulkeley
Born circa 1515 in Baron Hill, Beaumaris

First son of Sir Richard Bulkeley of Beaumaris and Catherine Griffith of Penrhyn

Died in 1572

Member of Parliament, representing Anglesey on four occasions

Heir to extensive estates in Anglesey, Caernarvonshire and Cheshire
First Wife
Margaret Savage
Parentsi:
John Savage of Clifton
Elizabeth Somerset
8 children
-Richard Bulkeley
-John Bulkeley
-Thomas Bulkeley
-Rowland Bulkeley
-Charles Bulkeley
-Jane Bulkeley
-Daniel Bulkeley
-Margaret Bulkeley
8 children
Elizabeth Bulkeley
Mary Bulkeley
Arthur Bulkeley
Tristam Bulkeley
George Bulkeley
Edward Bulkeley
Lancelot Bulkeley
Grissel Bulkeley
William's death and the end of an era
Upon William's death, the estate was inherited by his eldest son, Rees Wynn ap William. However, upon Rees' death in 1570 he had no son to succeed him. The estate subsequently passed down to his eldest daughter, Jane.
This is where things get extremely interesting…
By the time Jane inherited Coeden, Richard Bulkeley II had died and his eldest son from his first marriage, Richard Bulkeley III, had become the head of household
Sir Richard Bulkeley lll- Marriage and Children
Ist Wife:
Catherine Davenport
2 children
ElizabethBulkeley
Richard Bulkeley
7 children
Catherine
Penelope
Elizabeth
Margaret
Thomas
Merch (dim enw)
Mab (dim enw)
Richard Bulkeley lll
Member of Parliament for Anglesey, first sat in 1563

Entertained Queen Elizabeth I at Lewisham

Received his knighthood on the eve of his second marriage to Mary Borough, one of the Queen's maids of honour

Notorious for his litigiousness over land disputes
Family Feud
Despite his influence, Richard ruled over a divided household and found himself at odds with his stepmother, Agnes Needham. It is reported that her children despised Richard and his siblings and that his hatred was mutual.
*******************************************************
Jane's inheritance of Coeden was an opportunity that the Bulkeley family had been waiting for.
Keen to obtain the profitable estate, Richard hatched a plan…
Richard called upon his younger real brother, John and instructed him to propose to Jane of Coeden in a bid to incorporate the estate into the family's burgeoning land holdings. Unfortunately for Richard, it appeared that Agnes had beaten him to the punch with Jane already having accepted the proposal of Richard's stepbrother, Arthur… Richard was not a happy man!!
Infuriated by this, Richard, no longer concerned with the family's good name, accused his stepmother of murdering his father, resulting in a highly publicized court case where witnesses provided interesting and quite embarrassing testimonies against Agnes Needham…
Outcome of the trial
Fiercely defensive, Agnes Needham dismissed the allegations as nonsense, citing that it was a smear campaign orchestrated by her stepson, Richard Bulkeley. After three full years of bitter litigation, the charges were dropped; Arthur Bulkeley married Jane and become the new master of Coeden
Arthur Bulkeley, Jane Coeden's husband
By 1590, Arthur had become leading landowner on the north west side of the island

During the 1590s he became a member of the Commission of the Peace

In 1596 he was appointed High Sheriff

Died in 1600 at the age of 41
William Bulkeleys
Following the death of Arthur Bulkeley, Brynddu and Coeden passed to his eldest son, William. There would be five generations of William Bulkeleys at Coeden & Brynddu between 1600 and 1760, which causes a slight headache when researching the history of the estates!
William the Beard 1602-1682
One of the more noted William Bulkeleys, other than the noted weather diarist, was Arthur's grandson. He was dubbed William The Beard because he had made a vow that he would not shave until the monarchy was restored following the civil war. His protest got him into trouble, with the parliamentary forces arriving at Brynddu to arrest him, only to be warned off by a maid wielding an axe! He apparently then went into hiding.
He is referred to being 'of Coydan and sometimes of Brynddu', which hints that Coeden was no longer the primary residence and that Brynddu was positioning itself as such.
Un o'r William Bulkeleys mwyaf enwog, arwahan i'r dyddiadurwr, oedd ŵyr Arthur. Cafodd yr enw William y Farf oherwydd ei fod wedi addunedu i beidio ag eillio hyd i'r frenhiniaeth gael ei hadfer ar ôl y rhyfel cartref. Cafodd drafferthion gyda'i brotest, gyda lluoedd y senedd yn dod i'r Brynddu i'w restio - ond yn ôl pob son anfonwyd hwy oddi yno gan forwyn yn chwifio bwyell!! Aeth William i guddio ar ôl hyn.
Weithiau fe soniwyd amdano fel yn dod o 'Coeden ac weithiau o'r Brynddu' sydd yn awgrymu felly mai nid Coeden oedd y prif gartref erbyn hyn ond Brynddu.
Here is what appears to be a handwritten copy of the gravestone of William The Beard
Here is a photograph of the old house at Coeden. This is thought to have been built during the 1600s. Perhaps this is where William the Beard of Coeden actually lived.?
Snippets from the Diaries of William Bulkeley
"1736-Today I have people at work clearing the watercourses of Fynnon Trinculo in Coyden from the said well to the bridge.

1750 – Repairing bridge at Cae Lloriau due to flooding.

1751 – carrying lime from Cemaes came in by boat from Caernarfon to repair Barn and house at Coyden."

"1753 Carrying gors, thorns, bracken & peat from Coyden for winter use. 2 Carts + 5 horses with panniers besides.

Carrying straw from Coyden to thatch houses at home, and servicing thatchery."
Connections to Shakespeare
The name given to the well at Coeden "Trinculo" corresponds exactly to the name of a character in William Shakespeare's famous play the Tempest. However we shall never know as to why it was named Trinculo – shame that the diarist didn't include an explanation. The Italian name for Trinculo is "trincare" which translated means "to tipple" .The well apparently never ran dry even during the hottest summers of 1911, 1959 and 1976.
This photograph was taken by John Thomas in 1890.Note the newly planted trees in front of the house, and all the servants in front of the house. Note also the clock above the window ..
*******************************************************
The Bulkeley's ownership of Coeden and the estate came to an end in the year 1897. The land was sold in order to fund the development of the brick works on the outskirts of Cemaes but due to lime being discovered in the clay, the project was only to last two years.
History of Ownership to the Present Day
897 - William Bulkeley Hughes to J R Hughes 274 acres £5,500
1909 – J R Hughes to Robert Parry
1909 - 6 months later Robert Parry to J S Laurie
1921 – J S Laurie to Thomas Jones (Wyn Rogers' Gt.Grandfather)
1950 – Thomas Jones to Gruffydd William Jones & Owen Jones (Wyn's Grandfather)
1982 - Owen Jones to Wyn and Liz Rogers. Today it is a farm of 146 acres
A Valuation Document
We see from he valuation document that the farm was self-sufficient. It describes it as having, in addition to the usual farm buildings, the following:- a water wheel, Smithy, Granary and Bakehouse. The ample water supply emanates from Salbri,by way of the river Meddannen, which is held in the lake at Coeden before meandering onwards to Llanfechell. Here are some photographs of the lake, waterwheel and the Smithy.
Photographs of the Smithy
A photograph of the water mill which is now demolished
Slae of land, 1909-1921
17 Nov 1909 – Cae Mawr (now known as Caeau Ty Bach) £700 17 acres

14 Dec 1909 – Bryniau Duon a Gadlas £775 30 acres + house

21 Dec 1910 – Cae Glas (now known as Ponciau Gleision) £220 26 acres

15 Feb 1911 – Cae Glas & Rhos Wthio (rest of Ponciau Gleision ) £320 34 acres

18 April 1921 – Pantygwydd 18 acres £200

5 May 1921 –Cae'r Mynydd Llwyn Ysgaw (now known as Brynllyn) £325 17 acres
*******************************************************
Moving forward the present day, the trees have grown but curiously, the clock is absent. Its disappearance still remains a mystery to this day…
And here we end our journey through the years – and even though there have been changes one thing we will always share is the never ending view of the moon over Drym as was described by the bards all those years ago. Some things never change!!
*******************************************************
Sir Richard Bulkeley- Marriage and Children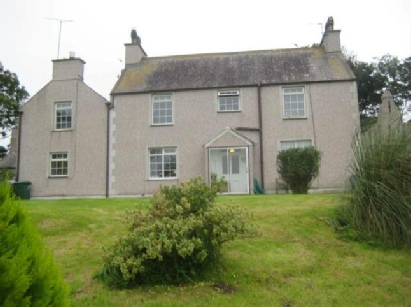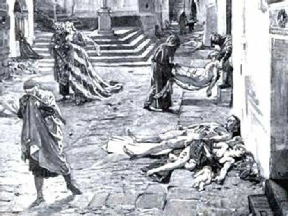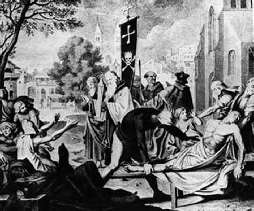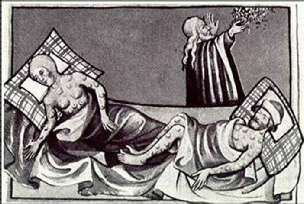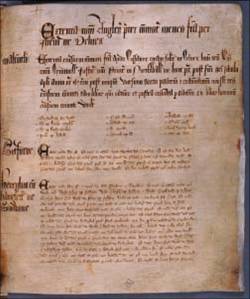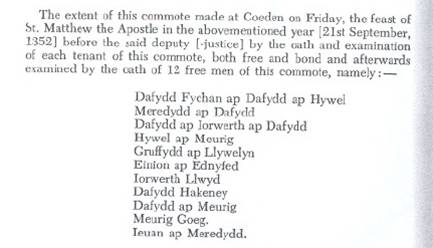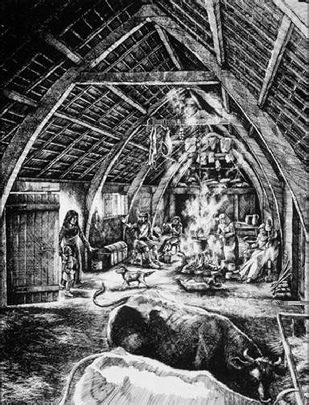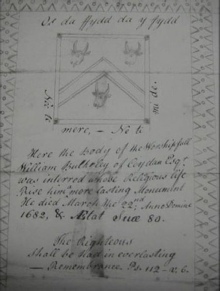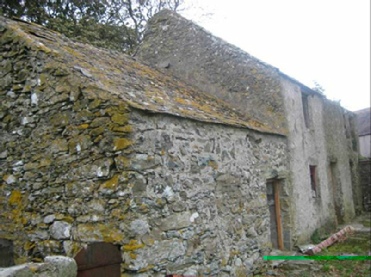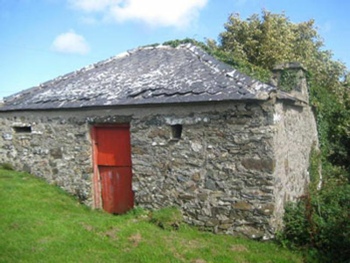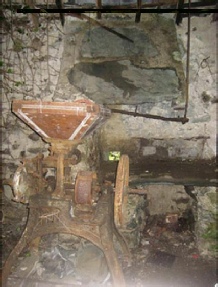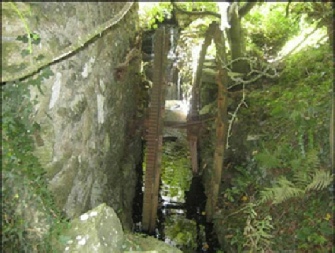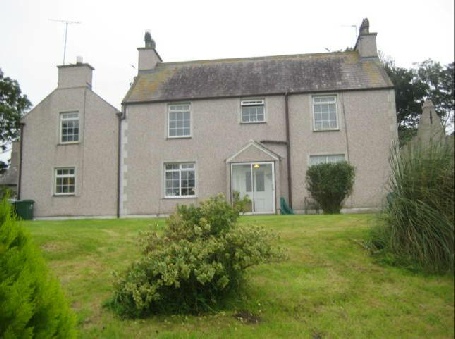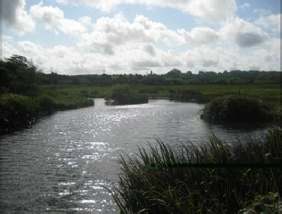 Introduction
Located on the outskirts of Llanfechell, Coeden Farm stands alone. Surrounded by looming trees that afford it such a name, Coeden's history extends as far back as the early 14th Century.
It is now a pleasure to take you on a journey into its past. What links this place to the time of the Doomsday Book? What is the Shakespearean connection?