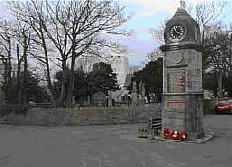 thanks to Mrs Annwen Jones, Mrs Elaine Rowlands, Mrs Hannah Owen, Mr Robert Williams & Mr Nigel Thomas
**************************************************
The Garreg Fawr a place of worship built in 1815. We can see the chapel house next to it. It was named after a nearby farm.
Click on photographs to see larger versions
Y Garreg Fawr as it is today, delapidated with a garage built in it's centre.
In 1897 a decision was taken to build a new chapel as Carreg Fawr was deteriorating. The land was bought by the Sarn Fadog family of Llannerchymedd for £10. The builder was Samuel Thomas and the cost was £318.9.5d
The chapel opened by the Reverend R.W. Davies
********************************************
The Chapel House
Richard Williams, Betws died on 8th June 1907. The Felin, Cemaes was part of his estate. He left most of his estate to his brother, Joseff Williams, Cefngwyn. The following year Joseff Williams promised part of the Felin land to the Baptist Chapels of Cemaes and Llanfechell so that a house could be built for the minister of both chapels. It cost £486. 14s. 3d .to build two houses and a further £44. 2s. 7d. to build a wall and to install a gate. Everything was completed by All Saints Day,1909
The Minister, the Reverend Meirion Richards went to live in Noddfa and the other house was rented out to a family for £18 a year.
********************************************
Gweinidogion Calfaria
The Reverend W. Richards and his wife 1907-1912
The Reverend W.P. Thomas 1914-1919
The Reverend Ben Meyrick 1920-19261920-1926
The Reverend B.D. Harris and his wife 1928-1938
The Reverend D.R. Owen 1941-1943 with his son and his brother
The Reverend Emlyn John 1945-1996
The Reverend Evan Williams, of Penygroes- the only member of Calfaria Chapel who became a minister.
Mr Morris Williams, a Calfaria deacon and father of the Reverend Evan Williams
********************************************
A Marriage License for the chapel
Calfaria Chapel did not have a marriage license but when Richard Owen, Bryn Clyni learnt that his daughter was to be married he went to buy a license. The first marriage in Calfaria took place on 22nd November ,1938 when Miss Eluned Owen, Bryn Clyni married Mr William Owen, Creigiau Mawr.
Mr Richard Owen, Bryn Clyni
The license showing that Calfaria was registered on 25th October, 1938 as a place to hold marriage ceremonies.
********************************************
Gifts for the Chapel
Note the stones laid into the chapel wall - those whose names were written here had donated gifts to the chapel.
The Small Bible- donated by Miss Apolonia Davies
Organ- donated by Mrs Grace Rowlands Ucheldref who was the organist in the chapel for thirty years.
A Sacrament dish- donated by Mrs Rowlands, Y Felin
A silver plate and table- donated in memory of Morris and Grace Williams, Penygroes
The pulpit and lamp - donated by Miss J Roberts
A portrait of Christmas Evans- donated by Mrs O Roberts
The Clock - donated by Mrs Williams, Penygroes
Electric organ -donated by Miss Megan Hughes, Dulas.
A Bible in memory of Richard Owen, Bryn Clyni donated by his wife and children , 1945
********************************************
Chapel Caretakers
Calfaria Chapel was very fortunate to have excellent caretakers for over thirty years, namely Mr William Jones and his wife, Margaret Jones. Mrs Jones passed away in 1967 and Mr Jones in 1969. Their daughter, Miss Jean Jones took over the work of caretaker until her retirement in March, 2005
Miss Jean Jones,The Rev. Emlyn John and Mrs Elaine Rowlands when she retired in 2005
********************************************
The Gee Medal
It was a great honour for Calfaria Chapel when, in 1929, Mr Hugh Jones, Mrs Hannah Owen's father received the Gee Medal for his loyalty to the Sunday School. He died at 95 years of age on 25th January,
********************************************
A new minister - The Reverend Emlyn John
Mr Emlyn John at the Baptists' College, Bangor 1944
The Reverend Emlyn John when he graduated
The Reverend Emlyn John, of Mynachlog Ddu, Pembrokeshire left the college in Bangor for Calfaria Chapel in 1945. A welcome service was conducted by the Reverend R. Parri Roberts, Mynachlogddu.
.
The Rev. Emlyn John with his bride, Gwyneth
The Reverend Emlyn John's first wedding ceremony was on 1st March, 1946 when Miss Mary Jones, Penygroes was married to Mr Robert Owen, Tŷ Hen.
Mr John baptising in the sea at Cemaes. The Baptists baptise in the same way as Jesus was baptised - in the sea at Cemaes or in the wells of Bethlehem Chapel or Soar, Llanfaethlu.
The Reverend and Mrs John celebrating forty years of service.
Celebrating fifty years as minister
A poem written by the late Richard Jones O.B.E.
A poem written by the Reverend Geraint Edwards
********************************************
Some events that took place during The Reverend Emlyn John's Ministry.
A letter dated 11th May, 1955 showing that an electricity supply was to be provided for the area including Calfaria Chapel.
A procession that took place in Holyhead each Whitsun.
A day of sermons for the Baptists at Libanus Chapel, Llanfechell
A Preaching Festival 1974 (Chaired by Mr Richard Jones)
A Sunday School trip to Betws Y Coed
Following a Sunday morning service
Mr Richard Jones, Penygroes Arthur who was a deacon and treasurer in Calfaria Chapel for many years. He was promoted to Chair of the Anglesey Baptists' Assembly in 1974. He died on 15th March ,1986 at 74 years of age
********************************************
Celebrating Calfaria's Centenary- the only chapel in Anglesey to be called Calfaria
On 8th May, 1998 Calfaria celebrated its Centenary. Many guests joined the members in the little Chapel. The late Mr Richard Owen, Bryn Clyni led the afternoon session by looking back over a century. Mrs Hannah Owen presided in the afternoon while Mrs Elaine Rowlands led the singing and was also the accompanist. There was a sermon by the Reverend J.R. Rowlands in the evening. The Reverend Emlyn John was responsible for all the arrangements.
90 years old in February 2007
The Rev. J. R. Rowlands presenting a gift on behalf of Calfaria members.
Eleri and Gwilym celebrating with their father
Clafaria's oldest members 2008-
The Rev. Emlyn John -91 years old
Mrs Hannah Owen- 90 years old
Miss Jean Jones - 84 oyears old
********************************************
The end of a journey
The Reverend Emlyn John died on 5th November 2008 at 91 years of age. He was the Minister of Calfaria Chapel for 63 years.
A tribute by his very dear friend, the Reverend Emlyn Richards
This is how we will remember him
********************************************
The present chapel was built in 1862 but we must go back further than this to find out about the history of the Independents in Llanfechell.
The old farmhouse, Maes Mawr
Like many similar religious movements it was in someone's home that a community of people who 'professed religion' got together. It was at Maes Mawr that the Independent movement started in the Llanfechell area when a man called Richard Jones came to live in Maes Mawr but we don't know exactly when. He was the son of John Pwen, Caeaumôn and he was a member in Capel Mawr, Ebenezer, Rhosmeirch- the first Independent chapel in Anglesey. Richard Jones and his wife were the only people in the area who 'professed religion'. It was to Maes Mawr that the first preachers came.
It was a great loss when Richard Jones died, a relatively young man, in 1787. He was buried in the cemetary in Rhosmeirch.
Religious services were held fairly regularly in the Llanfechell area but when Owen Thomas came to live at Carrog, the Independent movement was greatly strengthened. Owen Thomas was born in the parish of Heneglwys where his father was a farmer in Ty'n Llan. His mother 'professed religion' but his father objected when he embarked on his religious career. Owen Thomas was accepted as a member in Rhostrehwfa when he was seventeen years old. He married Elizabeth in 1789 and they moved to Cemaesycoed, Gwalchmai.
In 1794 they moved to Bodwyn, Llanrhyddlad and it was from here that Owen Thomas worshipped with the few disciples from Llanddeusant. They moved to Carrog in 1800. It was said that what was foremost in his mind when he moved was that he could find a place to worship God. He found such a place in Llanfechell, even though, at the time, there was only one religious member here, the widow of Richard Jones, Maes Mawr.
It was in a place called Broc'nol that the two of them held religious services over a period of time. They decided that a chapel should be built and a piece of land from Maes Mawr was given by the widow. Owen Thomas collected £150 – the cost of building the first chapel.
During this period a religious woman who was a member of the Amlwch chapel came to help them in their meetings. She and Owen Thomas held regular prayer meetings before anyone else took part in them.
The congregation grew gradually until there were 50 members, about 50 attending the Sunday School and the congregation was about 1000.
The present chapel was built in 1862 by the Lewis brothers of Liverpool. They were originally from Cemaes and their parents and older brother were buried in the chapel cemetery.
The first person to be buried in the cemetery was the first minister, Owen Thomas. It was said that Owen Thomas became very worried during the last days of his life, about where he was to be buried and he told his son that he wished to be buried near Ebenezer. This was not possible because the chapel was on a lease but his son went to see Richard Lewis, Gwenithfryn and asked him to to sell a small piece of land near the garden of the chapel house. It is said that Owen Thomas died shortly after hearing that the land had been bought. He was buried in the newly bought plot on 15th April, 1833.
The ministers of Rhosmeirch and Amlwch were mainly responsible for the Independent movement in Llanfechell until Owen Thomas was ordained on 12th April, 1814.
His son Thomas Owen was ordained on 10th June, 1828 to help his ageing father in his work as a minister.
John Jones, Seion, Flintshire started in Ebenezer in 1853.
The new chapel was opened in 1862 when Mr T. T. Williams was ordained as minister. Mr David John, Brecon became minister on 28th September, 1864 until 1868 and Mr Hugh Jones of Cemaes became minister in 1872.
(From 'Eglwysi Annibynol Cymru' by T. Reed, Swansea and J Thomas , Liverpool.)
Ordaining the new minister
The Reverend Emlyn John 90 years old