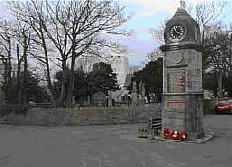 MAUREEN JONES (nee Davies)
My mother was Lizzie Owen, daughter of Elizabeth and Owen John Owen, Min Meddanen, Llanfechell. Lizzie – my mother- was working at the Alexandra Hospital in Rhyl, when she first met my father George Howell Davies, of Prestatyn, he being a patient, aged 14 and she was 18. They didn't see each other again until a few years later when she and her sister Mary were sat on a bench across the road from a pub, when George and his friend invited my mother and her sister for a drink in the pub. Lizzie – my mother - refused to go to the pub but accepted a glass of lemonade outside on the bench.
George Howell Davies & Elizabeth Owen
They married at Llanfechell Church on 15th December, 1940 and they lived at Prestatyn, where Joan my sister was born a year later in 1941 and I was born in 1945.
Sadly in 1946 George (my father) died from TB at the young age of 30, leaving Lizzie (my mother) a widow with 2 young daughters. It was after the harsh winter of 1947, when money was scarce, and with 2 young daughters to bring up that we returned to Llanfechell and lived with our grandparents for a year till my mother was allocated 1 Maes Y Plas by the council. We were the first family to be allocated a house in Maes Y Plas. All that was known about my father George's family, was that his father (my grandfather) Sidney Sherwood Davies was a chemist and had left the family home and his mother Hannah Elizabeth nee Proffitt, when George was young and that my great grandfather was also named George Howell Davies, a vicar.
So who were my father George's family and ancestors?
My father George Howell Davies Jnr was born at Wrexham in 1916, son of Sydney Sherwood Davies and Hannah Elizabeth Proffit.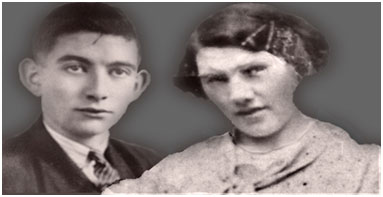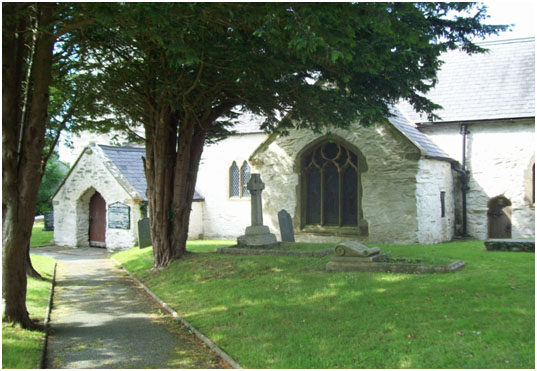 Sydney Sherwood Davies —––– Hannah Elizabeth Proffitt
George Howell Davies —––– Elizabeth Owen

From my parents' marriage record we see that George's father Sydney Sherwood Davies was deceased and that his profession was an electrician, although there were rumours that he had failed one exam to become a chemist. So what was the truth and where did he go as no death record existed for him at this time. We took a look at the life of Sydney from his birth, in 1879, from his baptism record we see that his parents were George Howell Davies, vicar of Llanllugan and his mother was Mary Jane.
There are many newspaper reports about Sydney helping out at church concerts at Newmarket
( Trelawnyd ) etc while he is growing up, his education looks promising too from this article when his successful at the Oxford exam.
Denbigh County School. – University of Oxford Local Examination. The three candidates from the Denbigh County School were all successful. They are – Christmas Anwyl ( The Abbey ), passed in the senior division, first class ; and Sydney S Davies ( Newmarket ), and Arthur Wynne Jones ( private evening pupil ), passed in the junior division.
Denbighshire Free Press, 27th August, 1898
So it was with surprise that this record was found, dated just 2 years later. Attestation for the 1st Life Guards of the Household Cavalry. Signing up for 12 years in 1900. His occupation was "dispenser".
So it looked as if the rumour was true. Had he failed 1 exam to be a chemist and joined the army?
The next record found was his service history, he was discharged after 4 years, "in consequence of being unsuitable for the Household Cavalry". Character assessment – Bad.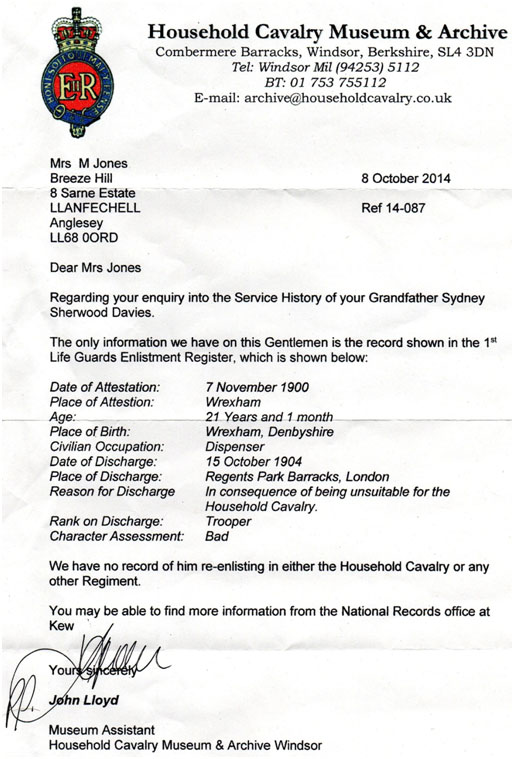 So when did he meet and marry his wife Hannah Elizabeth Proffitt?
Sydney Sherwood Davies married Hannah Elizabeth Proffitt in 1914 and we wondered why their marriage took place at South Wales, until we saw that on the 1911 census Hannah Elizabeth Proffitt is at Brynford Workhouse having given birth to a daughter. Doubtful that Sydney's father ( the vicar ) would have approved of the marriage. George was born 2 years later in 1916 but the marriage breaks down a few years later, Sydney leaves the family home and vanishes. No-one knew where, until this death certificate was found for him.
Sydney Sherwood Davies, aged 47 an omnibus driver. He is buried at Finchley, in the borough of Islington. As you can see from the certificate, also present at the death was "Nora Shirley". We do not know if she was his landlady or close friend.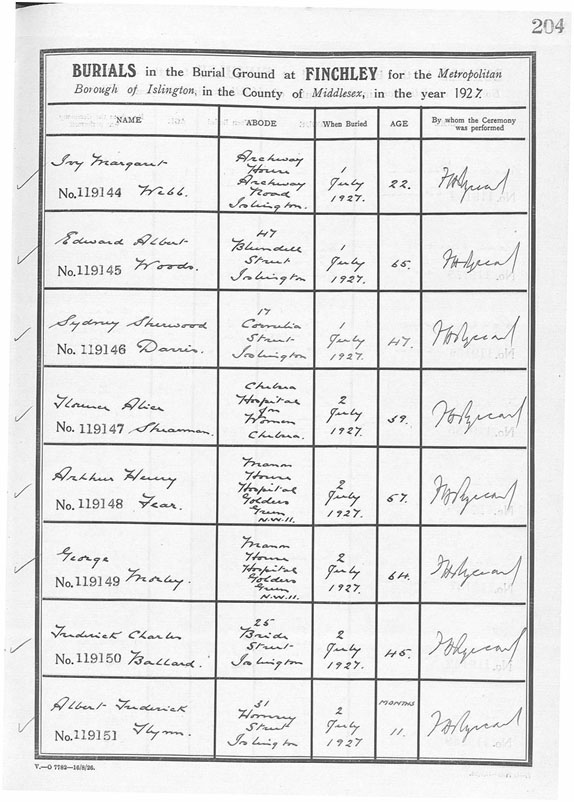 We know from newspaper reports etc that Sydney grew up with his parents at Newmarket, Flintshire,
( renamed Trelawnyd since around 1952). So next we researched Sydney's parents - George Howell Davies and Mary Jane – nee ?
GEORGE HOWELL DAVIES —––– MARY JANE ?
Sydney Sherwood Davies —––- Hannah Elizabeth Proffitt
George Howell Davies —–– Elizabeth Owen


This article in the newspaper shows us when they moved to Newmarket –
Promotion
The Rev. George Howell Davies, vicar of Llanllugan, near Berriew, has been offered and accepted the living of Newmarket, near Rhyl, in the gift of the Bishop of St. Asaph.
The Wrexham Advertiser, 7th November, 1885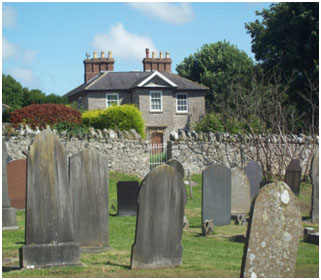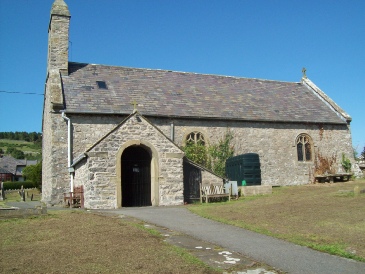 Next we searched for a baptism record for George Howell Davies to see where and when he was born as being a vicar he had probably moved around.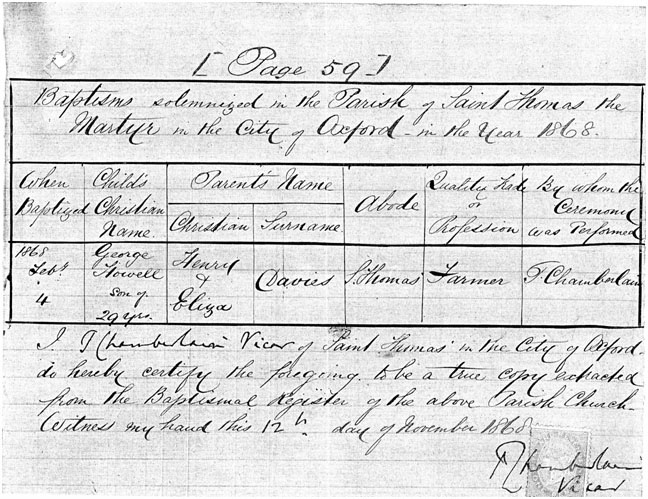 This baptism record shows that he had been baptised at St. Thomas the Martyr, in the city of Oxford, at the age of 29. But that did not mean he had been born there. Documents were found at the National Library of Wales about his ordination etc and 1 document was written and signed by his father Henry Davies – saying – I Henry Davies, do solemnly and sincerely declare that – I am a farmer residing at Byhold in the parish of Brawdy, in the County of Penbroke, that George Howell Davies, a candidate for Deacon's Order at the next Trinity Ordination of the Lord Bishop of St. Davids, is my son and was born at Byhold aforesaid on the fourth day of February, in the year of our lord, one thousand eight hundred and thirty nine.
The other documents received from the National Library of Wales were letters and testimonials about George Howell's character when he applied for different parishes as a vicar. He was vicar at the following places -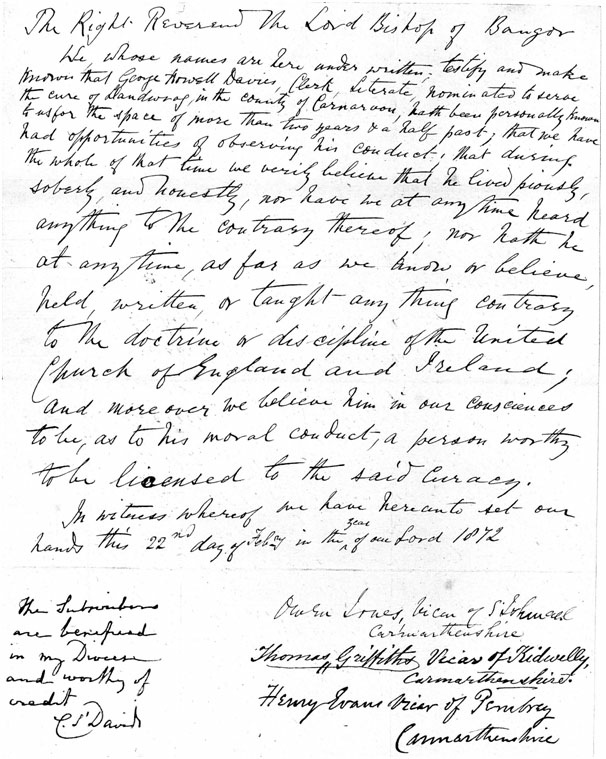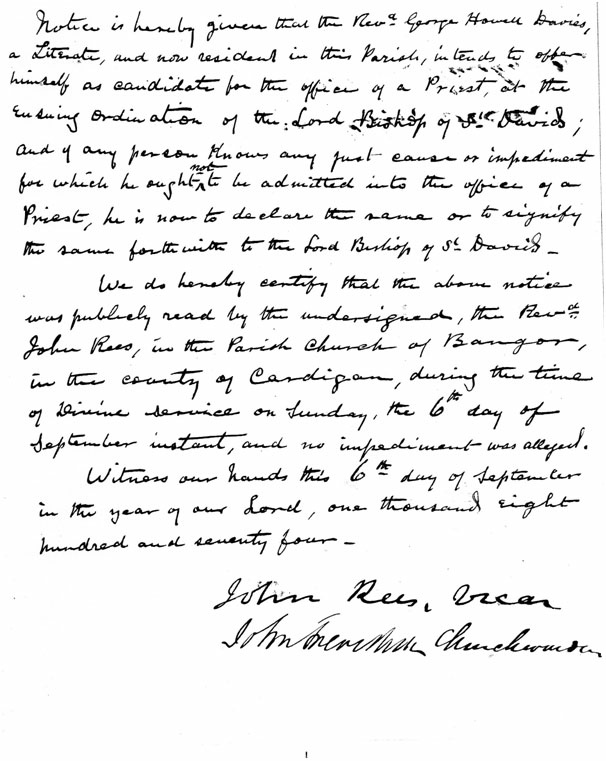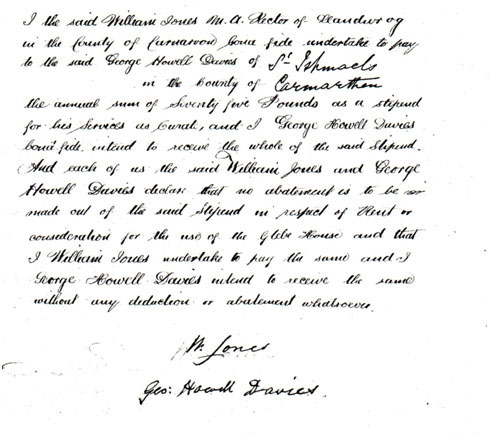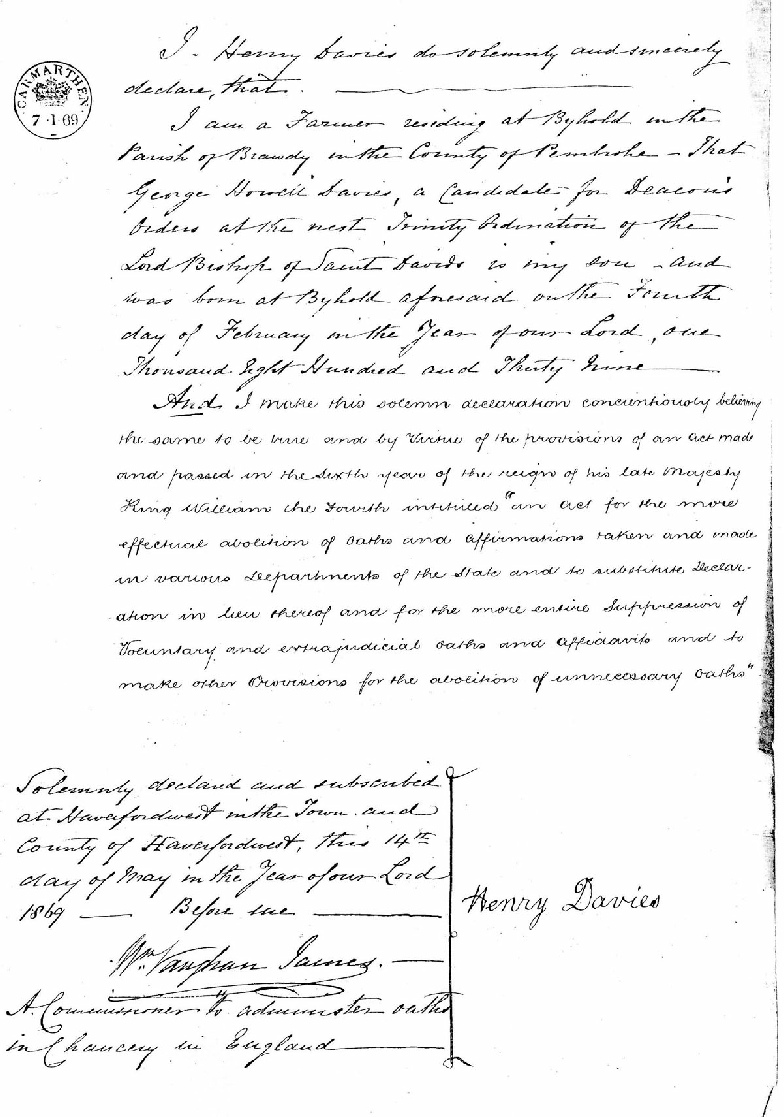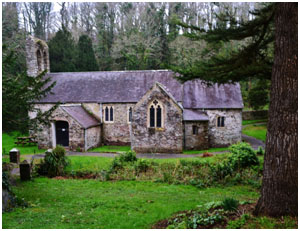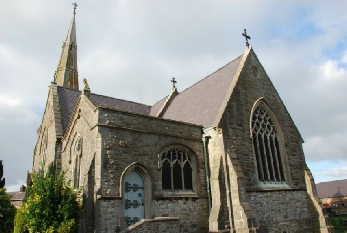 St. Ishmael Pembrokeshire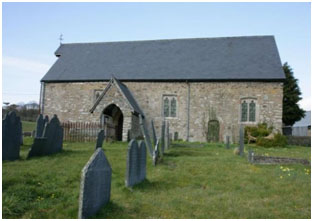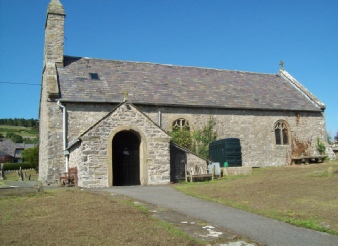 St Michael's Trelawnyd – Newmarket
His testimonials describe him as a pious, sober, honest man, so we wonder, what was his reaction to his only son Sydney's failing of his exam, joining the cavalry and indeed marrying a woman who had children before marriage?
From Newmarket George Howell Davies and Mary Jane retired to Caerwys. George Howell Davies died Feb 3rd 1915. In his will he left his son Sydney Sherwood Davies nothing. Mary Jane died 1918. Both are buried at Caerwys church.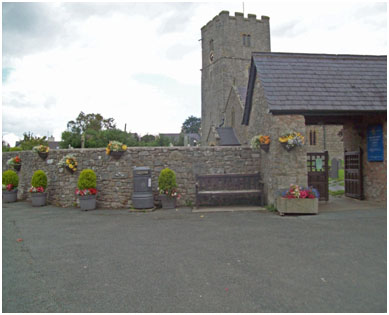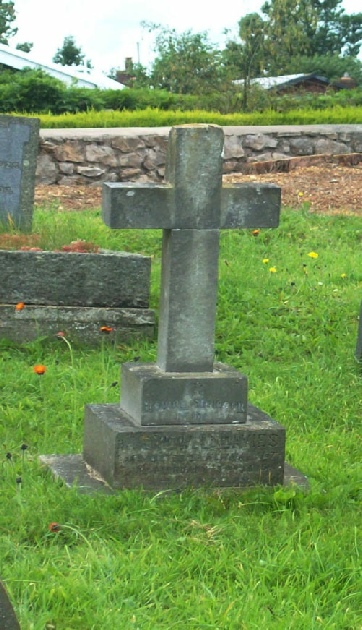 Then we needed to know more about Mary Jane, who was she and where was she from?
A look through the newspaper archive revealed this – a marriage announcement – which also revealed Mary Jane's maiden name – Darlington – and her father's name – John – and where she came from – Minera.
Marriages
Davies – Darlington – July 4th, at the Parish Church, Wrexham, by the Rev. David Howell, vicar, assisted by the Rev. John Williams, vicar of Minera, the Rev. George Howell Davies, vicar of Llanllugan, Montgomeryshire, to Mary Jane, daughter of the late John Darlington Esq., of Minera.
The Wrexham Advertiser, 7th July, 1877
Minera
A loss will be felt in the parish by the removal of Miss Darlington, who, during her residence in Minera for many years, has made herself, by her liberality and uniform kindness, universally beloved. Miss Darlington's services will be missed in a special sense by the church, in which she took a very lively interest, her support being given alike to church decorating, concerts, clothing clubs, or anything connected with the church.
Wrexham Guardian, 16th June, 1877
JOHN DARLINGTON —–– MARY ?
GEORGE HOWELL DAVIES —–– MARY JANE DARLINGTON
SYDNEY SHERWOOD DAVIES —–- HANNAH ELIZABETH PROFFITT
GEORGE HOWELL DAVIES —–– ELIZABETH OWEN


John Darlington was born in Kenwyn, Cornwall in 1799. He married Mary in 1820. They had 9 children. The census for 1841 and 1851 shows them living at Youlegreave, Derbyshire. His occupation – a mining engineer, he invented a hydraulic pumping engine to drain water from the mines.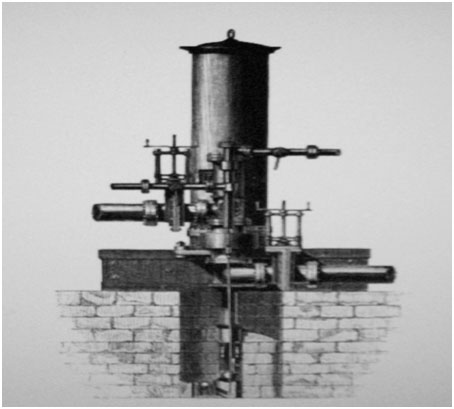 This engine was used at Alport, Youlgreave, and Talargoch and when the Alport mine closed in 1851 John Darlington took over the managing of Minera Lead mine.
During the hundred years from the first introduction of hydraulic engines, their power and efficiency were improved by a long line of engineers, such as John Smeaton, Richard Trevithick, Thomas Dean, William Fairburn, William Armstrong, and John Darlington. Most of these men came to hydraulics with considerable experience in stearn engineering and through them there was a major interchange of ideas and experience between the two sectors on such matters as valve design and the use and regulation of high pressures. Trevithick's pioneering work with high pressure steam, for example, may well have been influenced by his experience with water pressure engines which he designed and installed in Derbyshire and at the Druid Copper Mines, lllogan near Redruth . As a result of this interaction and numerous improvements in the design and construction of machinery, by 1842 Darlington was able to install an engine at the Alport mines using a 132 feet column of water exerting a force of more than 50 tons on a 50 inch diameter piston. At maximum capacity it could operate at 5 1/2 strokes a minute, generating 168 net hp and raising 6,000 gallons of water a minute from a depth of 138 feet . Darlington, who had care of the machine as engineer to the Alport Company from 1840 to 1850, estimated that it never cost more than £12 a year to operate and it worked for six years without interruption. In 1851, when the Alport mines closed, Darlington became the manager of Minera mine in Denbigshire and installed a similar engine there in 1853.
He installed his pumping engine there too in 1853. There were many inventions of the compressed air rock drill but it was John Darlington that invented an even simpler idea, he realised that the main problems of most drill designs was in the very fragile gears, that the destructive piston blows meant that high velocities were impractical. He therefore based his design on just two parts, the cylinder and the piston. As well as this he made the possibility of quick drill changes and held the tool firmly to reduce the strain on it, all this meant faster drilling. This became known as the Darlington Drill. He was the author of "On rock drills and hydraulic machinery for mines" He went in to partnership with another great engineer – John Arthur Phillips, they co-wrote the book "Records of Mining and Metallurgy". The partnership was dissolved in 1860. His work took him over the world – Italy, Australia, America.
In 1869 a lecture on the channel tunnel was given by William Low, Esq., Roseneath, Wrexham, the engineer and original promoter of the project, at the British Schools, Coedpoeth, the chair was occupied by John Darlington, Esq., manager of the Minera mines, who opened the meeting by taking a retrospective glance at the great achievements of the present century, and gave an interesting account of his personal acquaintance with the celebrated George Stephenson. While we may have had the channel tunnel built in this last century, I believe that the ground work had been done by these engineers over a hundred years prior.
ALPORT, near BAKEWELL,
March 8th, 1869.

DEAR SIR,
I am glad to learn by your favour of the 4th that the particulars I sent of the pressure-engine will be of service, and that, with some help from Mr. Darlington, you will be enabled to make a drawing of it. There is one thing I believe I have not named, it is that this engine has many times worked for fifteen or sixteen weeks together, without missing a stroke or being stopped for any purpose (a moment once or twice a day, do not recollect which) but to oil the bearings. The water was very clear and did not wear the valves and gearing of the buckets very much.
Yours truly,
SAMUEL BENNETTS.

F. TREVITHICK,
MINERA, near WREXHAM,
1st March, 1869.

DEAR SIR,
The sketch you have sent me of Trevithick's engine perfectly correct, and I can only answer the questions asked in your letter.
The pump-work at the Alport mines were two 33-inch drawing lifts, connected above the cylinder to the piston-rod by a cross-head; the bottom of the cylinder was at the adit level. The tumbling beam for working the boxes or valves was fixed about 12 feet above the revolving wheel, with a small rod connected to a short lever fixed to the axle of the revolving wheel. The tumbling beam was worked by two tappets, screwed on the rod that was connected with a powerful balance-beam on the surface. This rod was also connected with the cross-head below, stayed, or worked through guides, as the ordinary Cornish pit-work.
The water for working this engine descended to the piston below, from the surface, through a 15-inch downfall column, about 150 feet in depth. The regulating valve to this engine was on the surface, and the water was turned on according to the necessary speed of engine. I hope you will see how to form your sketch of this engine from what is stated above. If there is any other question you wish to ask, I will endeavour to answer it.
Yours very truly,
JOHN DARLINGTON.

F. TREVITHICK, Esq.
"The Darlington Drill. " The machine which, in England, has stood the test of experience most satisfactorily, and which, consequently, is surely working itself into general favour in this country, and also in some of the important mining districts of the Continent, is the invention of John Darlington, and is known as the " Darlington drill." This drill is remarkable as the attainment of the highest degree of simplicity of parts possible in a machine. The valve gear of a machine drill is especially liable to derangement. It must necessarily consist of several parts, and these parts must as necessarily be of a somewhat fragile character. Besides this, when actuated by the piston through the intervention of tappets, the violence of the blow delivered at each stroke is such as to rapidly destroy the parts. In some machines, the force of these blows and their destructive tendency have been reduced to a minimum; but when every means of remedying the evil has been employed, there remains a large amount of inevitable wear and tear, and a liability to failure from fracture or displacement exists in a greater or less degree. Moreover, as these effects are greatly intensified by increasing the velocity of the piston, it becomes at least undesirable to use a high piston speed. To remedy these defects, which are inherent in the system, Darlington proposed to remove altogether the necessity for a valve gear by radically changing the mode of admitting the motor fluid to the cylinder. This proposal he has realized in the machine which is illustrated on Plate IV.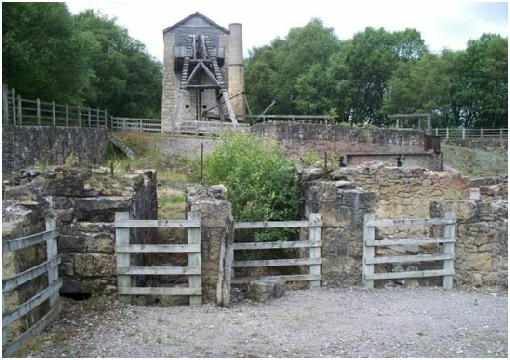 Minera mine which is now a museum and park and pump house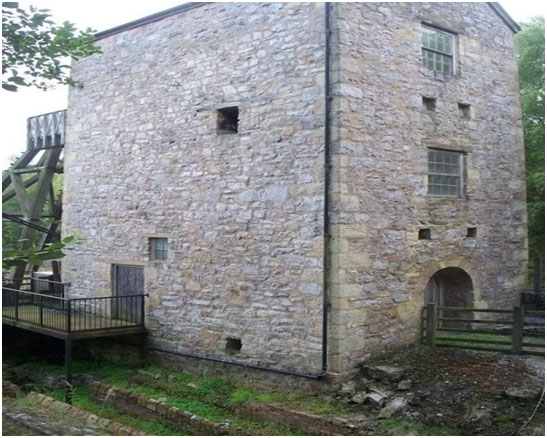 John Darlington's wife Mary died in 1871.
FUNERAL OF MRS. DARLINGTON. The funeral of this highly esteemed lady took place at Minera Church, on Wednesday, when the inhabitants of the district testified the respect in which she was held in the most marked manner. Upwards of six hundred attended without any pre-arrangement, and showed by their respectful demeanour their strong sympathy with Mr. Darlington and the family in their bereavement.
Llangollen Advertiser, 8th September, 1871
John Darlington died in 1877.
THE LATE MR. JOHN DARLINGTON
In our obituary column this week, will be found recorded, the death of Mr. John Darlington, who for more than a quarter of a century, was manager of the Minera Mining Company, and who, prior to that, was resident mining engineer to the late Duke of Devonshire, during which time he invented an hydraulic pumping engine of great excellence for draining mines, a large model of which stands in the Government School of Mines, Jermyn Street, an evidence of his mechanical and practical engineering skill. For the whole of the long period referred to, Mr. Darlington's name has been intimately connected with the Minera Lead Mining Company, indeed it's marvellous success, and the impetus it gave to mining in the district, making Minera, Coedpoeth and the Adwyrclawdd quite populous places, and materially benefitting the trade of our own town, was in a very striking degree, due to his untiring energy, great natural ability, combined with large natural experience. In selecting Mr. Darlington for the position, the directors exercised wise discrimination, for, from a position of despondency, and the day of small things, he, in due time, increased the number employed from seventeen to seven hundred, enabling the directors, by his successful working of the mine during his management, to declare dividends exceeding half a million sterling. With indomiable energy of character, unswerving probity and straightforwardness of purpose, Mr. Darlington combined a vein of quiet, deep, trustful piety, making a combination beautiful to witness in this day of shams, and endearing him to all around, indeed those who knew him best, loved him most, and his death will leave a blank in many a heart far beyond his immediate circle of relatives and friends. His funeral, which took place on Thursday morning last, was carried out simply, agreeably with his wish, as befitted his simplicity of life and character. Though no invites were given, many hundreds thronged round the old house, wishful to follow all that was mortal of him, to his last resting place, and so like a sheaf of corn, fully ripe, he has left the toil and gone to his rest and reward.
Wrexham Advertiser, Saturday, May 5th, 1877
From John and Mary Darlington's marriage record we note that Mary's maiden name was Nance, daughter of Richard and Elizabeth Nance and from these the ancestors can be traced back to Geoffrey Plantagenet and Empress Matilda of England.
With thanks to Mrs Maureen Jones & Mrs Marian Davies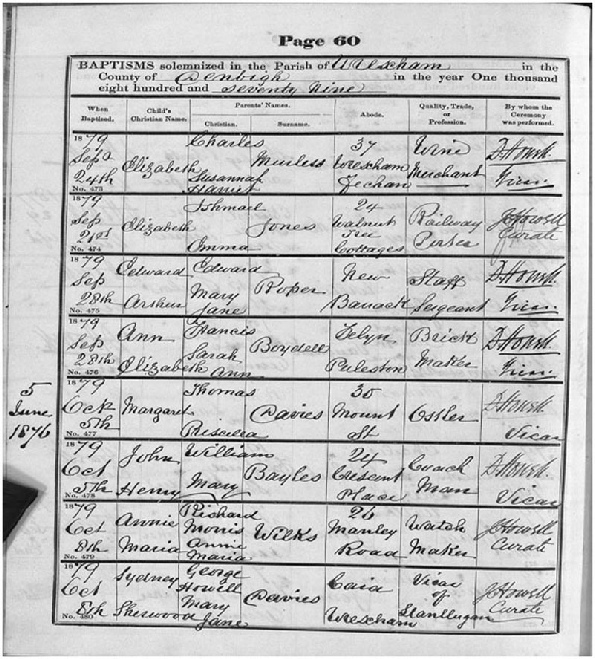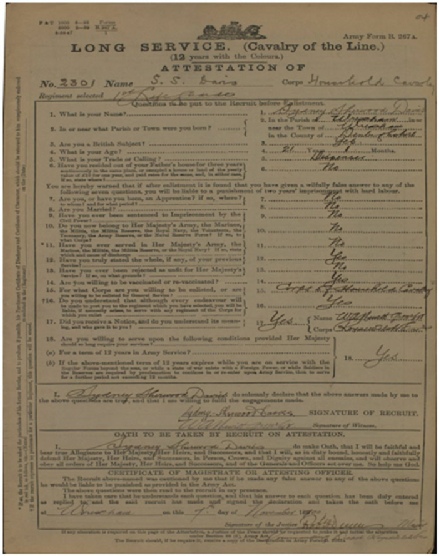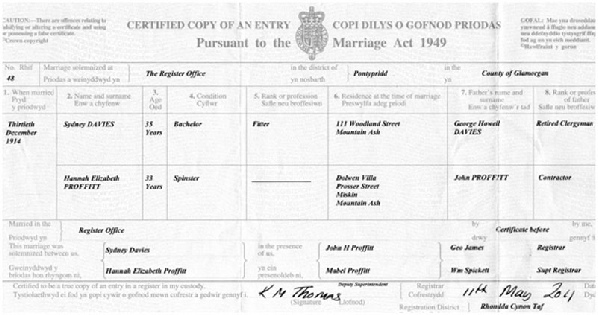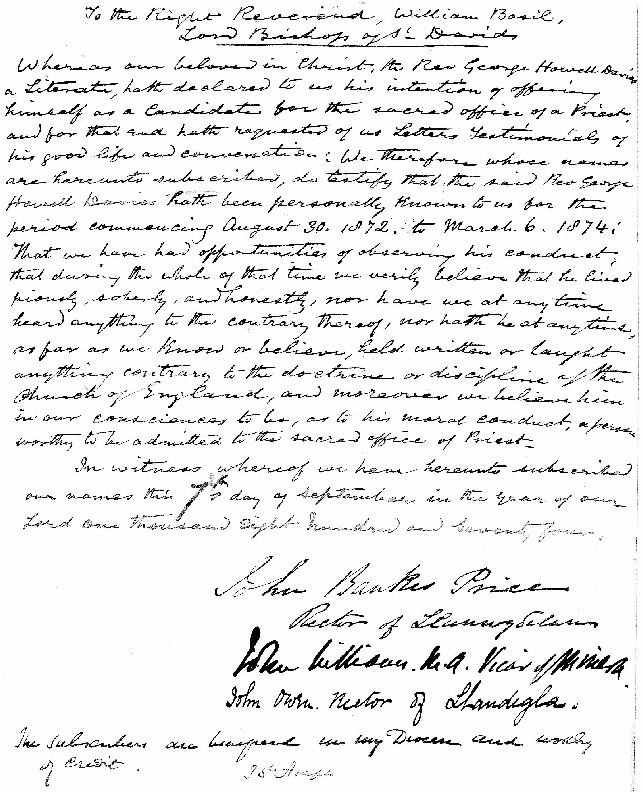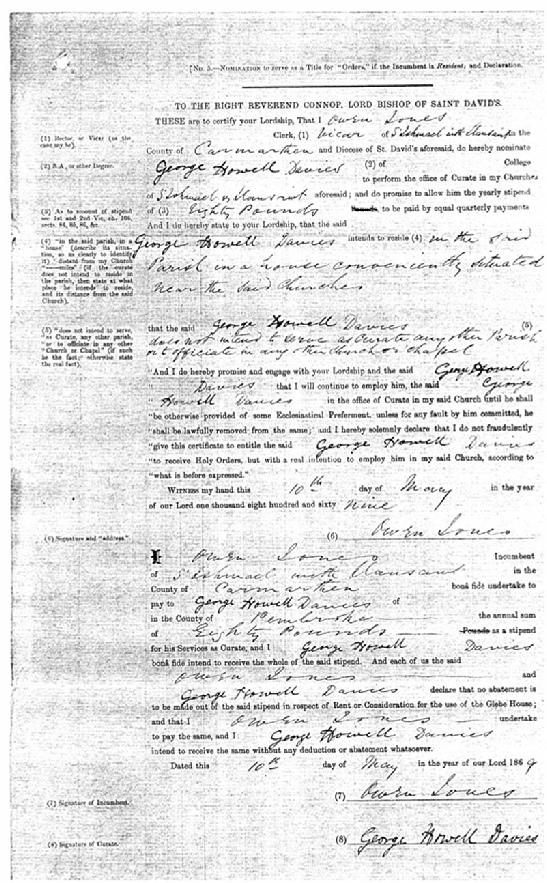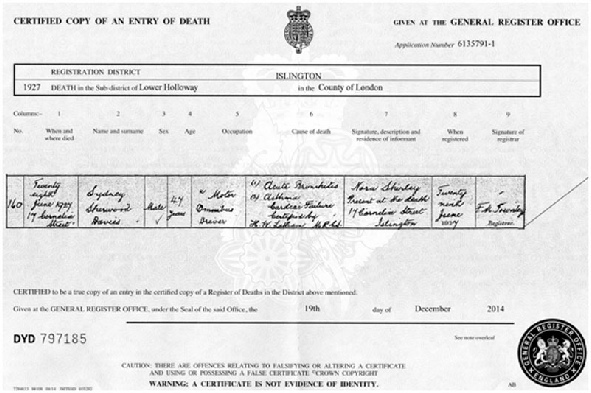 Geoffrey Plantagenet —–––––––––– Matilda Beauclere Empress England Plantagenet
b 1113 Anjou, Rhone-Alpes, France b 1102 Winchester, Hampshire
d 1151 Chateau Du Loir, Pays De La Loir, France d 1169 France
Henry II King of England —–––––––––– Eleanor of Aquitane, Queen Consort France & England
b 1133 Le Mans, Pays de la Loire, France b 1122 Belin, Aquitaine, France
d 1189 Chinon Castle, Centre, France d Mirabel Castle, Midi-Pyrenees, France
John Lackland King of England Plantaganet —–Isabella Countess Angouleme Consort Taillefer
B 1167 Beaumont Palace, Oxford b 1188 Angouleme,Poutou-Charentes, France
D 1216 Newark Castle, Nottinghamshire d 1246 Pays de La Loire, France
Henry III Plantagenet —––––––– Eleanor Provence
b 1207 Winchester, Hampshire b 1217 Aixen Provence, France
d 1272 Westminster, Middlesex d 1291 Amesbury, Wilts, England
Edward 1 Longshanks Plantagenet —––- Eleanor Leonora Castile, Countess Ponthieu Queen
b 1239 Westminster, Middlesex b 1241 Castilla-Leon, Spain
d 1307 Burgh on Sands, Cumberland d Herdeby, Lincs, England
Edward II King of England Plantagenet —–- Isabella (De France) Queen of England De Capet
b 1284 Caernarvon Castle, Wales b 1292 Castle Rising, Paris, France
d 1327 Berkeley Castle, Gloucestershire d 1358 Hertford Castle, Herts.
Edward III King of England —–––– Phillippa de Hainault, Queen Consort of England
b 1312 Windsor Castle, England b 1311 Le Quesnoy, Nord-Pas-de-Calais, France
d 1377 Richmond, Surrey d 1369 Windsor Castle, Berks
John of Gaunt Duke of Lancaster Plantagenet —–––– Katherine De Roet Swynford
b 1340 Ghent, Flandre Orientale, Belgium b 1350 Somme, Acardie, France
d 1399 Leicester Castle, Leics. d 1403 Lincoln, Lincs
Edward De St John —–––––- Joan De Beaufort
b 1375 b 1375 Anjou, Rhone-Alpes, France
d 1440 Howden, Yorkshire
Nicholas Arundell —––––––––– Johanna St. John
b 1404 Trerise, Cornwall b 1408 Somerset
d 1463 Trerise, Cornwall d 1462
John Esq Arundell —–––––––––––- Anne Moyle
b 1428 Trerise, Cornwall b 1440 Eastwell, Kent
d 1481 St. Michaels Church, Cornwall d 1541, Cornwall
John Arundell Jane Grenville
b 1470 Cornwall b 1474 Stowe, Cornwall
d 1512 Stratton, Cornwall d 1551 Stratton, Cornwall
Sir John Arundell —––––––––– Mary Beville
b 1495 Trerise, Cornwall b 1494 St. Allens, Cornwall
d 1561 Stratton, Cornwall d 1526, Madron, Cornwall
John Esq Capt. Nance —––––––- Margaret Margery Arundell
b 1536 Illogen, Cornwall b 1525 Madron, Cornwall
d 1561 Illogen, Cornwall d 1610 Illogen, Cornwall
Richard of Trewynnard Nance —––––– Alice Harry
b 1557 Illogen, Cornwall b 1562 Illogen, Cornwall
d 1582 Sterth, Cornwall d 1590 Illogen, Cornwall
John Harry Nance —–––––––––––– Jane Johan
b 1576 Illogen, Cornwall b 1585 Illogen, Cornwall
d 1629 Rosecarnon, St. Keverne, England d 1598
John Nance —––––––––––––––- Johanna Profit
b 1606 Cambourne b 1610
d 1665 Charles City, Charles, Virginia, USA
John Nance —––––––––- Jane Norman
b 1630 Padstow b 1633
d 1720 d 1672 Padstow
John Nance —––––––––- Dorothy Hosgood
b 1672 b 1675
d 1736 Cornwall d 1714 Cornwall
Richard Nance —–––– Susannah Dorman
b 1712 Cornwall
d 1765 Cornwall
Richard Nance —––––– Sarah Ann Johns
b 1741 Padstow b 1741 Padstow
d 1813 Padstow
Richard Nance —––––––– Elizabeth Osborne
b 1767 Padstow b 1779 Padstow
d 1851 Prestbury, Gloucestershire d Hackney London

John Darlington Mary Nance
B 1799 Kenwyn, Cornwall b 1800 Roach, Cornwall
D 1878 Minera, Wales d 1871 Minera, Wales