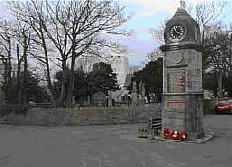 Llanfflewyn
Llanfflewyn Church stands in Mynydd Mechell, on land at Fferam y Llan. It is said that stones from a nearby quarry was used to build the original roof.
This is a list of Fferam y Llan's field names written by Mrs M. Richardson, Gorphwysfa (mother of Iola Roberts, Hafod y Grug) as she remembered what she was told as she grew up.
Cae Pot Powdwr - there is a quarry on the edge of the farm, where they quarried for slates many years ago. About a quarter of a mile from the quarry there is a filed called Pot Powdwr (Powder Pot). There stood a building on it where the powder for blasting at the quarry was stored.
Cae yr Eglwys - where the ancient church of Llanfflewyn stands
Cae y Fuwch Frech – I have no idea the reason for this name.
Ponciau y Moch - Pigs Bank. 'Ponc' is also a reference to a section of a quarry
Cors Marl- marl' denotes fruitful or clay land
Cae Llyn - because it bordered on Llyn Geirian
Cae Ynys Gwyddel also Rhos Gate House
Ty'n Llan was the original name of the farm
On the Tithe Map of 1841 the following details are given about the farm:
Landowner: Sir Richard Bulkeley
Tenant: Richard Parry
Name: Ty'n Llan
Measure: 216 a. 1r. 37p.
Rent: £7.00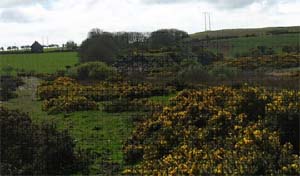 Llanfflewyn Quarry as seen today,with the Fron farmhouse in the distance
The remains of the old quarry on land near Llanfflewyn
The embankment across Llyn Llygeirian
Remnants of the slabs used to build the Embankment
It is a lake with an area of 29.8 acre. It is divided in two by an embankment on the east side. The embankment was built by the Llanfflewyn Slab and Slate Company in the 1870es. The quarry was developed on land at Llanfflewyn, owned by Sir Richard Bulkeley, with the intent of extending to include underground works, pumping houses, slate mills etc. However, the venture was a failure. Waste from the quarry was used to build the embankment with the intention of having a tramway across the lake towards the Llanddygfael road. The horse drawn wagons would have carried the slab and slates on the first leg of their journey to be sold. All that is now left is a heap of waste, the remains of the excavations surrounded by trees and a building to the left of that.
************************************************************
Llanddygfael
Llanddugwel was part of Llanfechell parish, in the hundred of Talybolion. At one time it was a parish of its own. By now, there is little evidence to show where St. Dygfael's church once stood. The maps show where the church and well of St. Dygfael were located. There is now a house called Bryn Eglwys near where the original church stood.