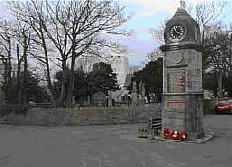 The farm stands on the edge of the village in thedirection of Tregele. On the land there are the remains of a Neolithic/Bronze age burial chamber.
This is a map of the farm in (Anglesey Archives)
click on map to see larger version
The belief is that the chamber stood here for hundreds of centuries. This is an account by John Skinner in 1908
"From hence passing by an old mansion named Cromlech now tenanted by a farmer we came to the spot where many large stones were lying scattered promiscuously on the ground and one nearly square measuring nine feet across leaning against some uprights about six feet high. From the appearance of this place I should rather imagine that it had been the interior or cistfaen of a carnedd and this opinion seems somewhat confirmed by the accounts of the common people who remember great quantities of stone having been removed to form a wall."
Glyn Daniel in the 1950 ' said
"at present this site consists of nothing more than a number of large stones lying in a field — some flat and others slightly tilted
Daniel, Glyn E., The Prehistoric Chamber Tombs of England and Wales, Cambridge University Press 1950.
Skinner, John, Ten Days' Tour through the Isle of Anglesey, December 1802, Charles J. Clark: Lond
**********************************************
Here is part of a Sale Catalogue in 1919 (Anglesey Archives)
**************************************************